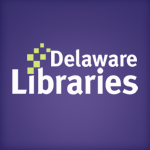 Facebook Twitter Pinterest Flickr Google+ YouTube Instagram
Archived Posts From: 2011
Written on: July 15th, 2011 in Blog Posts
Watch a preview of acclaimed singer and string instrumentalist Tom Sieling! The Delaware Division of Arts filmed and interviewed him at the library during a performance.  Tom's fun packed show invites full audience participation and his music brings smiles and laughter to all, regardless of age.
Tom is bringing his performance to libraries throughout the state as part of the Summer Library Reading Program Performing Arts Series.  Click here for more information and a complete performance schedule.
This series is brought to you by the Delaware Division of Libraries with funding support from the Delaware Division of the Arts and the Institute of Museum and Library Services.
Written on: July 5th, 2011 in Blog Posts
Watch a preview of acclaimed storyteller Diane Macklin!  The Delaware Division of Arts filmed and interviewed her at the Bear Library.  Diane captivates young and old with her dancing hands, lyrical voice, and high energy.
Delaware Division of the Art's Meet the Artist
She is bringing her "Animal Tail Tales" to libraries throughout the state as part of the Summer Library Reading Program Performing Arts Series.  Click here for more information and a complete performance schedule.
In addition to Diane Macklin, also catch performer Tom Sieling, singer, guitarist, and banjoist.
This series is brought to you by the Delaware Division of Libraries with funding support from the Delaware Division of the Arts and the Institute of Museum and Library Services.
Happy reading!
Tags:
LibGuide
,
storyteller
,
summer reading
Written on: June 16th, 2011 in Reading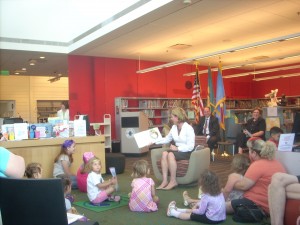 Delaware's First Lady Carla Markell kicked-off the 2011 Summer Library Reading Program at the Kirkwood Library on Wednesday. Mrs. Markell read "How to Make an Apple Pie and See the World" by Marjorie Priceman (a book she said she read to her daughter many times when she was younger) and "Anansi Finds a Fool" by Verna Aardema. Children and parents in the audience were also treated with a performance from Tahira, a multicultural storyteller and musician.
The theme of the 2011 children's Summer Library Reading Program is "One World Many Stories". The Summer Library Reading Program assists children in maintaining their reading skills over the summer to prevent September Setback where students may lose up to one month of instruction, with disadvantaged students being disproportionately affected.
With funding from the Delaware Division of the Arts, Diana Macklin and Tom Sieling will be performing at every public library in DE this summer to promote the program.
Many libraries now have separate teen and adult summer reading programs; "You are Here" for teens and "Novel Destinations" for adults.
Additional information about the Summer Library Reading Program including the schedule for the performers, suggested reading lists for kids, teens and adults and information about the benefits of summer reading can be found at http://guides.lib.de.us/summerreading
Tags:
LibGuide
Written on: June 14th, 2011 in Q & A's
When and where the American Flag was first flown in battle has not been definitely determined by scholars.  On June 14, 1777, Congress made the following resolution: "The flag of the United States shall be thirteen stripes, alternate red and white, with a union of thirteen stars of white on a blue field. . ." Official announcement of the new flag was not made until Sept. 3, 1777. 1  It was certainly flown during the Mexican War (1846-1848) and the American Civil War (1861-1865).
Legend has it that Betsy Ross' famous flag was first flown in battle during the Revolutionary War at the Battle of Cooch's Bridge in 1777. (explorethearcive.com)
This legend appears to have its beginning during the Colonial Revival period. In 1901, the first monument erected at the battlefield stated the flag was present during the engagement.  However, the monument was modified in 1932 to be less definitive.
Nevertheless, the custom and tradition that the flag flew in battle was codified in The Battle of Cooch's Bridge by Edward W. Cooch, published in 1940. Cooch stated, "(1) That circumstantial evidence indicated that the first use of the Stars and Stripes was a Cooch's Bridge.  Although this has never definitely been proved, it has likewise never been disproved.  (2) That all evidence in support of Brandywine may be used in support of Cooch's Bridge" (Cooch page 60).
Cooch supported his argument that the flag was at Cooch's Bridge by assuming  that the flag was present eight days later at the Battle of Brandywine (September 11, 1777), a claim that has since been refuted by scholars.
As historians and flag scholars continued to research the Battle of Cooch's Bridge, they found it unlikely the flag was flown there.
According to archeologist and historian Wade Catts, "The American formation fought as an ad hoc light infantry corps composed of picked men and volunteers from throughout the army and only existed for a month.  The whole purpose of the infantry was stealth and secrecy so it is highly unlikely they would have carried a flag into battle."
Charles Fithian, Curator of Archeology for the Delaware Division of Historical and Cultural Affairs, agrees:  "The Stars and Stripes started as a Naval Flag so it is unlikely a light infantry unit that had just been formed would have had the flag.  And they tended not to carry flags which would announce their presence."
Neither Mr. Catts, who is currently writing a book on the Battle of Cooch's Bridge, nor Mr. Fithian have found historical evidence of the flag being flown at the Battle, nor of any British accounts that mention it.
Mr. Fithian explained there are no stars and stripes among the "Tarleton Flags," the only surviving flags from the Continental Units.  Lt. Col. Banastre Tarleton captured the flags in two battles (1779 and 1780) and sent them back to England as trophies.  These flags stayed with the Tarleton family until their sale at auction in 2006.
During a surprise attack in 1779, Tarleton captured the battle flag of the Continental Army's 2nd Light Dragoons, also known as Sheldon's Horse, which saw combat at the Battle of the Brandywine.
Further reading:
The Battle of Cooch's Bridge by Edward W. Cooch
The Philadelphia Campaign by Thomas J. McGuire
Special thanks to Steve Newton from the Delaware Division of Libraries and Margaret Raubacher Dunham from the Delaware Public Archives for their research assistance and to Charles Fithian and Wade Catts for the historical analysis!
Tags:
american flag
,
cooch's bridge
Written on: June 9th, 2011 in Blog Posts, News
This past Sunday the News Journal published a fantastic article highlighting several online resources that are available with a library card.  E-books, e-audiobooks, cookbooks, newspapers, magazines, auto-repair manuals, sample practice tests, and more resources are all available via the Delaware Library Catalog portal website at www.lib.de.us.  If you didn't catch the article in the newspaper, you can read it online here.
Delaware is fortunate to have an administration that supports libraries and recognizes the value of lifelong learning.  Governor Jack Markell, Secretary of State Jeffrey Bullock, and Chief Deputy Secretary of State Rick Geisenberger worked with State Librarian Dr. Annie Norman to make the statewide catalog a reality.  Also, numerous library leaders, staff, and community partners, have worked collaboratively together in support of Delawareans – it takes a village to create the infrastructure, and to use the power of the infrastructure to help individuals and communities achieve potential.  Because of these efforts all public libraries in the state as well as several academic institutions are sharing resources!
Joining together in a statewide catalog has already brought libraries several benefits.  Libraries now receive economies-of-scale savings, from something as simple as library cards to content-rich databases and e-books.  Not only does the consortium save taxpayers money—it allows for better service! Library card holders in Dover can request materials online from Wilmington and have them delivered to Dover.  Library card holders in Hockessin can check out paperbacks on their way to the beach and return them to the Rehoboth Beach Library (and even check out an audiobook for the ride home!).
And, because the library's web portal offers so many incredible resources, library card holders can access the information in their own homes (or wherever they have Internet access!). John Wilson and Christine Karpovage, mentioned in the article, are both online library users. John uses the lib.de.us website to access the Auto Repair Reference manuals, and Christine uses lib.de.us to find new cookbook recipes to try. That's her in the above picture testing out a turkey burger recipe from Rachael Ray Express Lane Meals: What to Keep on Hand, What to Buy Fresh for the Easiest-Ever 30-Minute Meals.
Remember:  Signing up for a library card is easy!  Just stop into any member library.
Written on: May 27th, 2011 in Q & A's
No–the FDA, Mayo Clinic, and several other reputable health organizations all state scratching poison ivy, oak, or sumac will not spread the rash, which is produced by exposure to the plant oil urushiol.  
The Mayo Clinic writes "A poison ivy rash itself isn't contagious. Blister fluid doesn't contain urushiol and won't spread the rash. In addition, you can't get poison ivy from another person unless you've had contact with urushiol that's still on that person or on his or her clothing."
According to the FDA "Poison ivy and other poison plant rashes can't be spread from person to person. But it is possible to pick up the rash from plant oil that may have stuck to clothing, pets, garden tools, and other items that have come in contact with these plants. The plant oil lingers (sometimes for years) on virtually any surface until it's washed off with water or rubbing alcohol."
"The rash will only occur where the plant oil has touched the skin, so a person with poison ivy can't spread it on the body by scratching. It may seem like the rash is spreading if it appears over time instead of all at once. But this is either because the plant oil is absorbed at different rates in different parts of the body or because of repeated exposure to contaminated objects or plant oil trapped under the fingernails."
Thanks for using Ask a Librarian Delaware! Have a question?  Ask us!
Written on: May 15th, 2011 in Blog Posts, Learning
Obviously, learning across/in-and-out/through the life span is a very big deal in libraries. Whether researching a small business start-up, planning a long-awaited trip or selecting just the right title for a 5th-grader post-Harry Potter, customers turn to the library staff for ideas and guidance. The staff then dig into their toolkits to charge expertise and creativity into action. Toolkits? What toolkits?
Over the last decade, the Delaware Division of Libraries has built a Continuum of Library Education centered on a primary premise. To provide the best possible service to a lifelong learner, one must be a lifelong learner. The foundation of the Continuum is the Library Associate Learning Institute (LALI); this blended learning experience focuses on core library skills, on the basic tools of the trade: non-fiction and fiction reader's advisory in all formats, cultural programming and customer service. When the Institute draws to a close, the instructors stand enthused and energized by what the associates have accomplished for themselves and their library. It never fails to inspire. Allow me to shine a light on our newest batch of graduates. Their names…and the projects they created for their library…are listed below. Join me in congratulating the 2011 class of LALI!
Bridgeville: Jonnell Singh ~ a full teen program including books, movies, programs
Delmar: Holly Kunde ~ a fax service for the community
Delmar: Jessica Webb ~ a non-traditional book group for teens, Pages & Pizza
Frankford: Cindy Givens ~ a non-traditional book group for varied ages
Harrington: Marleena Young ~ a teen advisory group
Laurel: Wenona Phillips ~ a weekly non-traditional book group-online too
Lewes: Lea Tomer ~ a Family Game Night with pizza donated by Mr. P's
Kent County Library: LeighAnne Goulet ~ a monthly non-traditional book group
Kent County Library: Cyndi Laird ~ a periodical check-in process for tech services
Kent County Library: Cathy Michalski ~ a book group for needleworkers
Brava!
Written on: May 3rd, 2011 in Blog Posts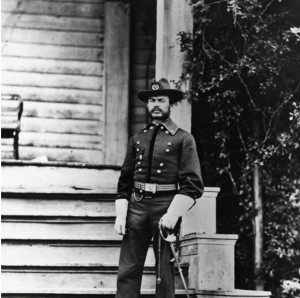 In April, Governor Jack Markell issued a proclamation beginning Delaware's official commemoration of the 150th anniversary of the American Civil War. 
The Delaware Division of Libraries has created an extensive online list of reading and viewing material about the Civil War for adults and children at http://guides.lib.de.us/civilwar which links users directly to the statewide library catalog to place a hold on a book or a DVD to pick up later at their local library.
The Delaware Public Archives has added their collection of Civil War photographs, maps, diaries, and more to the Delaware Heritage Collection.  And, The Government Information Center, in cooperation with the Delaware Heritage Commission, is responsible for the creation of a new Civil War commemoration website at civilwar.delaware.gov.
In addition, public libraries, historical societies, museums, DNREC's Division of State Parks, and the Delaware Division of Historical and Cultural Affairs are offering tours, programs, and events commemorating the Civil War.  Check the events calendar on the civil war website for more information.
Written on: April 14th, 2011 in Blog Posts, Informal learning, Reading
Since 1958, libraries have thrown themselves – and you – a party in April. Happy National Library Week! The Founding Fathers recognized an informed citizenry as the backbone of a democracy. And our public libraries and schools were born. As Jefferson wrote "If a nation expects to be ignorant and free, in a state of civilization, it expects what never was and never will be."
But this post is about the personal library experience, the private celebration. Our State Librarian, Annie Norman, often shares articles/books that catch her interest. Enter Susan Olding's essay, Library Haunting. First published in Canada's The New Quarterly, we discovered the work in the Utne Reader. Take a look; see if Ms. Olding captures your thoughts as she did ours. For instance: "But enter a library, and we lose our hard surfaces and become porous, like paper waiting for ink. We breathe in the smell, that sweet intermingling of must and glue, and our troubles melt away. Our despair at the desk when the words wouldn't come; our irritation at an imagined slight or a telephone that rang and rang; our sore back—all forgotten. Here, in the hush of the stacks, we can forget the day's indignities; here, we can recover our curiosity and hope."
And while we all acknowledge that libraries exist today without walls – a good thing -consider this. "Perhaps the library is better thought of as an idea—or an ideal—than as a physical place. Or is it? I remember my daughter's small fingers closing around her first library card, the gleam of pride in her eyes as she fingered its surface, scored with the letters of her own name. To be the holder of a library card is to take an early step toward citizenship. Before the bank account, before the driver's license…or the opportunity to vote, comes the chance to advertise one's curiosity to the world." A very good thing.
Written on: March 30th, 2011 in Blog Posts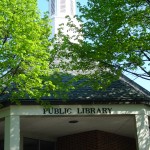 Fellow librarian, Honore Francois, pointed me to a community of needlecraft bloggers out there who eagerly await a weekly challenge from Carole Knits. That challenge is to post a ten item list in response to the Tuesday prompt. Hence, Ten-on-Tuesday.
This week's prompt? Ten Reasons To Use The Public Library. Enjoy the lists from these non-librarians: Merry Karma, Pomo Golightly, Seventeenth Stitch and Stepping Away from the Edge.
Then, consider this prompt for your own blog! How about Three-on-Thursday?