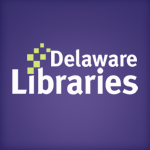 Facebook Twitter Pinterest Flickr Google+ YouTube Instagram
Bringing the Library to You
Written on: June 9th, 2011 by: in Blog Posts, News
This past Sunday the News Journal published a fantastic article highlighting several online resources that are available with a library card.  E-books, e-audiobooks, cookbooks, newspapers, magazines, auto-repair manuals, sample practice tests, and more resources are all available via the Delaware Library Catalog portal website at www.lib.de.us.  If you didn't catch the article in the newspaper, you can read it online here.
Delaware is fortunate to have an administration that supports libraries and recognizes the value of lifelong learning.  Governor Jack Markell, Secretary of State Jeffrey Bullock, and Chief Deputy Secretary of State Rick Geisenberger worked with State Librarian Dr. Annie Norman to make the statewide catalog a reality.  Also, numerous library leaders, staff, and community partners, have worked collaboratively together in support of Delawareans – it takes a village to create the infrastructure, and to use the power of the infrastructure to help individuals and communities achieve potential.  Because of these efforts all public libraries in the state as well as several academic institutions are sharing resources!
Joining together in a statewide catalog has already brought libraries several benefits.  Libraries now receive economies-of-scale savings, from something as simple as library cards to content-rich databases and e-books.  Not only does the consortium save taxpayers money—it allows for better service! Library card holders in Dover can request materials online from Wilmington and have them delivered to Dover.  Library card holders in Hockessin can check out paperbacks on their way to the beach and return them to the Rehoboth Beach Library (and even check out an audiobook for the ride home!).
And, because the library's web portal offers so many incredible resources, library card holders can access the information in their own homes (or wherever they have Internet access!). John Wilson and Christine Karpovage, mentioned in the article, are both online library users. John uses the lib.de.us website to access the Auto Repair Reference manuals, and Christine uses lib.de.us to find new cookbook recipes to try. That's her in the above picture testing out a turkey burger recipe from Rachael Ray Express Lane Meals: What to Keep on Hand, What to Buy Fresh for the Easiest-Ever 30-Minute Meals.
Remember:  Signing up for a library card is easy!  Just stop into any member library.