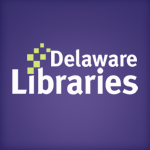 Facebook Twitter Pinterest Flickr Google+ YouTube Instagram
Archived Posts From: 2014
Written on: December 11th, 2014 in Archives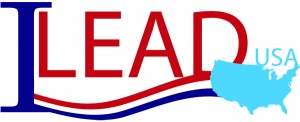 Library staff from across the state of Delaware are invited to apply to participate in ILEAD USA Delaware 2015. The Division of Libraries has been promoting this continuing education library immersion program over the past several months, encouraging library staffers whose positions may range from part-time pages to full-time librarians to identify a community need that can be addressed through an innovative use of technology. That is the core of ILEAD – a program that teaches library staff to work with each other using participatory and emerging technologies to solve a community need.
ILEAD, a clever acronym for Innovative Librarians Explore, Apply, and Discover, was initiated by the Illinois State Library (ISL) and will be funded in 2015 by an Institute of Museum and Library Services (IMLS) Laura Bush grant through the ISL and by the Delaware Division of Libraries.
Last year my colleague and I traveled three times to Springfield, Illinois, to participate in the fourth cohort of ILEAD as Apprentices. Along with ten* other states, we observed 25 Illinois library staffers as they progressed on their team projects, during the time span of March 2014 through October 2014. We watched the teams develop their leadership and team building skills as they learned new technologies to fulfill their project goals and better serve their communities.
By the end of the final session in October, these exceptional staffers were roaring to return to their libraries, armed with their ILEAD experience, claiming "[ILEAD] will challenge you. It will reaffirm your belief in what you're doing. It'll make you happy … Just join." A.Y. from the I GED U team, 2014
Past projects include:
Engaging Ones – developed a geo-location capable software application to connect teens with librarians and library programs near their current location. Resulted in IMLS Sparks! Ignition grant.
Grow Digital – a centralized site for people struggling with digital literacy where they can acquire the digital skills needed to function well in today's society.
Robot Test Kitchen – reviews of robotic tools for use in a public library setting.
Sharing Useful Professional Electronic Resources – a collection of digital resources organized by school librarians to reflect the Common Core standards for language arts.
The Division of Libraries is bringing this extraordinary program to Delaware in 2015. We are in search of innovative library staff, mentors and instructors.
You can find additional information on ILEAD USA Delaware 2015 at guides.lib.de.us/ILEADDelaware2015
*Colorado, Illinois, Maine, New York, North Dakota, Ohio, Pennsylvania, South Carolina, Utah, Wisconsin (Other states participated as Apprentices and will not be replicating the program in 2015)
Written on: October 22nd, 2014 in Archives
Libraries offer fun and engaging programs for all ages, and language programs are an important part of these offerings.  The Corbit-Calloway Memorial Library recently hosted "Uno, Dos, Tres con Andrés!" – a high energy bilingual language program.
"The kids get a lot out of these kinds of programs. When they go home they're speaking some of these words, they're humming some of the tunes. And I think the kids learn to love coming to the library."
–Karen Quinn, Corbit Calloway Memorial Library Director
Written on: October 15th, 2014 in Archives
Questions about Ebola? Am I in danger? Can I travel?
The Division of Libraries now has a LibGuide on the Ebola virus. This guide gives you news, research resources and authoritative information together in one finding aid.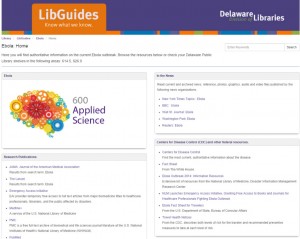 Written on: September 29th, 2014 in Archives, Director
The Institute of Museum and Library Services (IMLS) recently interviewed State Librarian, Dr. Annie Norman, about how the needs of library users are changing and evolving. It's an interesting topic and a worthwhile read. Thanks for the support IMLS!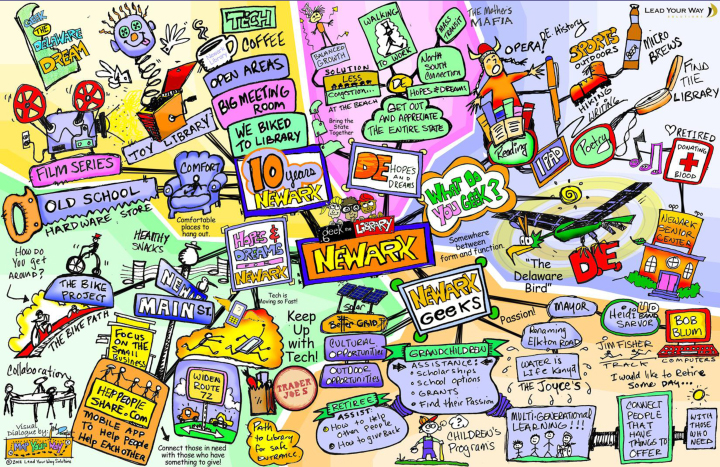 Written on: September 16th, 2014 in Archives, Entrepreneurship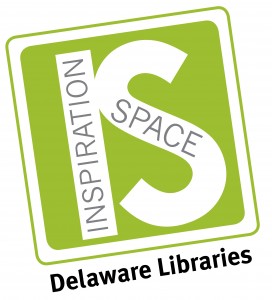 Fall is in the air – a time to harvest our bounty! At the Delaware Libraries Inspiration Space, we have been talking to Delawareans to find out how libraries can help to water, nurture and grow entrepreneurship in Delaware. We continue to urge people to share ideas with us via this blog.
Now we want to share some resources with you. Libraries in Delaware offer free programs for entrepreneurs, such as social media marketing and basic programs about how to start a business. There are several programs offered monthly at multiple libraries throughout the state.
Also, libraries have great online resources at: http://guides.lib.de.us/entrepreneurship.
Inspiration Space @ Delaware Libraries continues to be a large cornucopia for collecting ideas and this blog is one mechanism for us to share the ideas with you.
Join the discussion on this blog!
For more information, contact one of the Inspiration Space Coordinators:
• Alta Porterfield @ 302-922-0753 or alta.porterfield@lib.de.us.
• Ray Goode @ 302-222-8509 or ray.goode@lib.de.us.
• Hope Ellsworth @ 302-222-3618 or hope.ellsworth@lib.de.us.
Written on: July 22nd, 2014 in Archives, Entrepreneurship
Happy Summer fellow Delawareans – Please join the Delaware Division of Libraries in a conversation: How can we water, nurture and grow entrepreneurship in Delaware? There are already great resources and supports in some areas, but let's take this to the best step (not the next step)! In Delaware, our very own Small Wonder, what can we do? There are some neat things happening and I am impressed by successful entrepreneurs who have volunteered their time to develop some start-up dream opportunities for others. We can do more, can't we?
In the library system, we have conversations, so we are hoping that one way we can contribute to the nurturing of new and growing businesses is by being a LARGE SPONGE for ideas (that we will share in the Fall). We also love to share information and ideas.
Join the discussion on this blog or via social media:
Written on: April 4th, 2014 in Blog Posts
In communities throughout Delaware, libraries are informational resource centers and gathering places, bringing people and organizations together. The Milton Library is helping to revitalize the downtown area, attracting large and diverse numbers of its neighbors with new programming and newly designed services.
Watch video on youtube
Connect with us:
Written on: February 17th, 2014 in Archives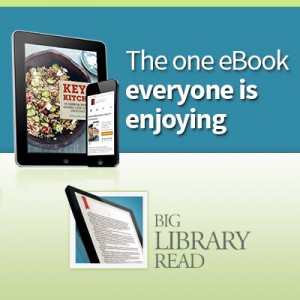 Program makes popular eBooks available to all patrons without waitlists or holds
Delaware Libraries today announced that they will be taking part in the Big Library Read program. Library card holders will be able to borrow and enjoy the cooking eBook Keys to the Kitchen by Food Network star Aida Mollenkamp, starting February 17th and concluding the morning of March 5th by visiting http://delaware.lib.overdrive.com. Patrons will be able to select a lending period of one, two, or three weeks, which begins at the date of checkout.
Keys to the Kitchen is a cookbook by definition, but it's much more than simply directions to get from page to plate. Author Aida Mollenkamp provides helpful how-to information on everything from proper knife skills and finding the right ingredients to throwing a show- stopping cocktail party. It doesn't just provide ideas on what to cook, but also walks the reader through how to cook
The Big Library Read is an international program that gives libraries and library patrons unlimited simultaneous access to a popular title during the program, creating a virtual, global book club. Interested patrons will be able borrow Keys to the Kitchen using a valid library card, and enjoy on all major computers and devices, including iPhone®, iPad®, Nook®, Android™ phones and tablets, and Kindle® without worrying about wait lists or holds. Titles will automatically expire at the end of the lending period. There are no late fees!
The Big Library Read program is made possible through a partnership between OverDrive, the leading supplier of eBooks and more to libraries, and Chronicle Books, publisher of Aida Mollenkamp's all-purpose guide to becoming a more adventurous cook. To borrow the eBook version of Keys to the Kitchen as part of Big Library Read, patrons can visit http://delaware.lib.overdrive.com.
Written on: February 7th, 2014 in Archives
On February 7, 1964, The Beatles flew from London to New York City for a ten day American tour, including 3 performances on the Ed Sullivan show.
There is a new LibGuide commemorating this historic time in music and pop culture. Follow their visit with a timeline; read new books about them; discover their impact on music even today; watch all 3 performances on the Ed Sullivan Show. As an added bonus, there is also a video of an Academy Award winning actress who took part in the original Beatlemania.
http://guides.lib.de.us/beatles