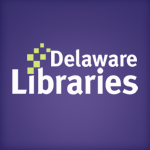 Facebook Twitter Pinterest Flickr Google+ YouTube Instagram
2011 Summer Library Reading Program
Written on: June 16th, 2011 by: patty.langley in Reading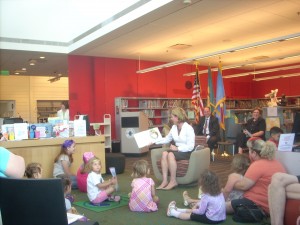 Delaware's First Lady Carla Markell kicked-off the 2011 Summer Library Reading Program at the Kirkwood Library on Wednesday. Mrs. Markell read "How to Make an Apple Pie and See the World" by Marjorie Priceman (a book she said she read to her daughter many times when she was younger) and "Anansi Finds a Fool" by Verna Aardema. Children and parents in the audience were also treated with a performance from Tahira, a multicultural storyteller and musician.
The theme of the 2011 children's Summer Library Reading Program is "One World Many Stories". The Summer Library Reading Program assists children in maintaining their reading skills over the summer to prevent September Setback where students may lose up to one month of instruction, with disadvantaged students being disproportionately affected.
With funding from the Delaware Division of the Arts, Diana Macklin and Tom Sieling will be performing at every public library in DE this summer to promote the program.
Many libraries now have separate teen and adult summer reading programs; "You are Here" for teens and "Novel Destinations" for adults.
Additional information about the Summer Library Reading Program including the schedule for the performers, suggested reading lists for kids, teens and adults and information about the benefits of summer reading can be found at http://guides.lib.de.us/summerreading
Tags:
LibGuide