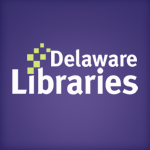 Facebook Twitter Pinterest Flickr Google+ YouTube Instagram
Watch Musician Tom Sieling
Written on: July 15th, 2011 by: in Blog Posts
Watch a preview of acclaimed singer and string instrumentalist Tom Sieling! The Delaware Division of Arts filmed and interviewed him at the library during a performance.  Tom's fun packed show invites full audience participation and his music brings smiles and laughter to all, regardless of age.
Tom is bringing his performance to libraries throughout the state as part of the Summer Library Reading Program Performing Arts Series.  Click here for more information and a complete performance schedule.
This series is brought to you by the Delaware Division of Libraries with funding support from the Delaware Division of the Arts and the Institute of Museum and Library Services.