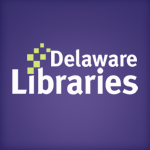 Facebook Twitter Pinterest Flickr Google+ YouTube Instagram
Archived Posts From: 2009
Written on: June 23rd, 2009 in News
A blog that is mostly about books can hardly let the birthday of the typewriter go unremarked!
"Christopher Latham Sholes' machine was not the first typewriter. It wasn't even the first typewriter to receive a patent. But it was the first typewriter to have actual practical value for the individual, so it became the first machine to be mass-produced…After receiving his patent, Sholes licensed it to Remington & Sons, the famous gunmaker. The first commercial typewriter, the Remington Model 1, hit the shelves in 1873."
Written on: June 22nd, 2009 in News, Reviews

This week's New Yorker magazine includes a lengthy profile of the prolific author Nora Roberts. You can see current issues of the New Yorker, along with hundreds of other popular magazines (including Consumer Reports) online through EBSCO's MasterFile- log in to the Delaware Library Catalog with your library card and PIN, then select "Research Databases/EBSCO" to access all of the subscription resources available to your and every other library card holder.
Here are a few nuggets from the profile- Roberts sounds like a fascinating character:
Roberts, a romance novelist who also writes futuristic police procedurals under the name J.D. Robb, has published a hundred and eighty-two novels.
In a typical year, she publishes five "new Noras": two installments of a paperback original trilogy; two J.D. Robb books; and each summer, the "big Nora"—a hardcover standalone romance novel.
Twenty-seven Nora Roberts books are sold every minute.
"She has a dirty mouth, a smoker's voice, and a closet full of Armani."
If you have a Delaware Library Catalog card, you can also click here to read reviews and read-alikes from EBSCO's NoveList book review website (although there are enough Roberts/Robb books to keep most voracious readers busy enough not to need an alternate!)
Written on: June 19th, 2009 in News
In a conversation last week, my coworker Patty reminded me that at least a couple of times a year, everyone should switch over to Route 9 for their commute between New Castle County and Dover. It takes a while longer, and is about 15 miles longer, but it's still a beautiful change of scenery- and a nice change to see a landscape where human economic and social structures have integrated with rather than overwhelmed the natural landscape.
Route 9 is a designated Coastal Scenic Byway, recognized for its variety and beauty- there's a good article about driving Rt. 9 here. A dirt road until the early part of the twentieth century, Rt. 9 was the main transportation and economic artery of the State until the development of Rt. 13, which began as a two-land highway in 1924 and ten years later became the first divided highway in the world, revolutionizing the State's commercial life by allowing easy access to the northern markets for agricultural crops.
Mention of choosing between Rt. 1, Rt. 13, and Rt. 9 also presents an excuse to mention Google Books' new service: full text embedded viewing of books scanned through their mass digitization program. Here's a nice local example that you can read in full text without leaving this website:
Written on: June 16th, 2009 in News, Reviews
Much of the world is transfixed at this moment by the upheavals following the recent Iranian election, by the apparent paradox of a popular demand for democracy, with women as some of the strongest voices heard, within a fundamentalist, autocratic system.
The Iranian regime is justifiably demonized by most Western governments, but the history of Persia/Iran is long and not especially receptive to simplistic analysis. Here are a few well-reviewed titles available from the Delaware Library Catalog about Iranian history, politics, and culture with an emphasis on the late 20th Century and the emergence of the fundamentalist revolutionary regime:
And here are some more general listings of books available on various related topics:
Much of current American analysis and understanding is informed by our experiences with the hostage crisis. These are a couple of good books on that subject:
Guests of the Ayatollah, Mark Bowden
Taken Hostage, by David Farber
And a complete listing of books available on the hostage crisis.
UPDATE: Web Resources of Interest
Written on: June 16th, 2009 in News

June 16th will always be Bloomsday- the day on which Leopold Bloom, the protagonist of James Joyce's Ulysses ate, drank and adventured around Dublin.
Libraries and literature lovers around the world celebrate Bloomsday by recreating or reading about events from Bloom's hyperactive day. If you can't make it to Dublin to reenact Bloom's peregrinations in person, The Rosenbach Museum in Philadelphia has events scheduled today.
(and yes I said yes I will Yes.)
Written on: June 16th, 2009 in News

This striking, WPA-inspired image was featured in the March 1933 issue of Publishers Weekly, at the height of the Great Depression. The NPR blog recently published this story about the issue, showing a remarkable resemblance in reader preferences, library use, and the publishing industry between then and today. Escapist romances, gripping adventure tales, and broad prescriptions for the economic health of the nation were as popular then as now, with library circulation reaching new heights in both periods.
Today's Baltimore Sun published yet another in a long line of stories about people turning to their libraries as a resource for employment resources- attendance at the Enoch Pratt Free Library's programs has doubled, along with the city's unemployment rate this year.
Written on: June 15th, 2009 in Learning Journeys
Annie here: We are pleased to announce our fourth learning
organizer, The Curious Life of Me:  A journal of
my child's questions…and answers, for parents of preschoolers through 4th
grade or so.  The question journal
contains prompts for parents/caregivers to capture children's questions and
nurture curiosity.  Learning organizers help individuals to
reflect and build on their learning, and also demonstrate the benefits that library use provides over time.
The bad news is, due to the economy
we're not going to be able to publish it with a fancy binding like our first
tool, the learning journal.  The good news is, we designed it in pdf so that it can be made available to the world! Download DDL QuestionJrnlPgsRev8 6-10-09
The four organizers,
so far, are:
·         Growth Chart for preschoolers – designed, not yet
printed
·        
Reading Rocks – reading portfolio
for summer reading participants to collect reading logs and certificates
throughout their summer reading years
·        
Question Journal – contains prompts for
parents to capture children's questions and nurture
curiosity
·        
Learning Journal – our original tool
– all participants who attend the Learning Journeys program receive a free
journal, but are encouraged to use the style of organizer that works best for
them.  The Learning Journal contains suggested prompts and includes space for
reading maps, etc.
It will be interesting to see if the
IMLS 21st Century Skills tool, to be released in July, is in alignment
with Learning Journeys
discoveries – Delawareans got a head start on this one!
 (Delaware
loves being First ;-) 
Still lots more work to do and
opportunities to explore on our
"self-directed learning path about self-directed learning;" please share if you're
exploring a similar path. 
Written on: June 15th, 2009 in Reviews

Click on the links below to get lists of new items available from the DLC in various formats:
All New Items
New Audio Books
New Books
New DVDs
Written on: June 15th, 2009 in Reviews
The Sunday New York Times Book Review showcased some very interesting- sounding titles this weekend:
A Short History of Women, by Kate Walbert- interconnected short stories about the experiences of a British suffragist and her descendants- including one set at Dover A.F.B.
Commencement, by J. Courtney Sullivan. The lives of a group of Smith College students in school and beyond- not quite as good as The Group, according to the reviewer, but "an affable first novel".
Three different reviews on books about the current financial crisis focusing mainly on J.P. Morgan and Bear Sterns. "Street Fighters" sounds particularly gritty.
Written on: June 12th, 2009 in News
I'm a fan of nifty news-tracking tools, especially ones that have a strong visual component. Snapstream.com is a service that aggregates all the transcripts of network TV shows and allows users to search for specific keywords or phrases, and graphs the results. The graph above shows how often the word "libraries" was mentioned on network news for the year to date.