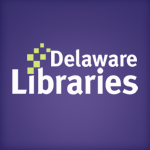 Facebook Twitter Pinterest Flickr Google+ YouTube Instagram
Archived Posts From: 2010
Written on: November 16th, 2010 in Blog Posts
The Lewes Public Library will close on Wednesday November 17th until 3 PM for staff and patrons to attend the memorial service for Christopher Smail, who died last week in a tragic accident while on his way to attend classes at Delaware Tech. Christopher was dedicated to his work as a student page at the Lewes Public Library, and was known as the "Page Master" to everyone there. The staff will miss him terribly. More information about the service can be found at this link.
Written on: November 15th, 2010 in Blog Posts
This week's New York Times book reviews included a number of new works by old favorites, rather than fresh discoveries. But these selected titles are no less welcome for that:
Written on: November 14th, 2010 in Blog Posts
Sometimes you get to ask interesting questions upon the discovery of mistakes and oversights! And it might be the fact that unanticipated research discovers more significant issues than the research that we meticulously plan. For instance, the Selbyville library staff recently found out that due to a combination of staff and management turnover and other factors, they had not sent out traditional overdue notices to their patrons since early 2009! Not that they just hadn't sent out mail notices, but they also hadn't sent out any email notices either.
This has been remedied now, of course, but it was informative to see what impacts this might have had, and make some speculations about the role and usefulness of library notifications about overdues and fines based on the data available.
Written on: November 12th, 2010 in Blog Posts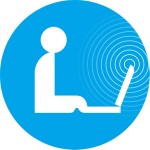 Over the last couple of weeks, we've added some outstanding new titles to our e-Audiobook collection. You can click on this link for a complete list of new e-audiobooks in the Delaware Library Catalog, and download from the NetLibrary website by clicking on the eBook icon or the "chain" icon in the full item record. You can find instructions elsewhere in this blog or on the Netlibrary website. Here are a couple from the list which I have read (in print) and recommend, if you haven't already checked them out:
Other non-fiction titles that caught my eye, some may be of particular interest to business people:
Written on: November 8th, 2010 in Blog Posts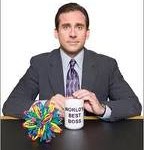 No. I have no idea what Bruce Springsteen is reading (although it's interesting to speculate what's on Michael Scott reading list- any ideas?), but I did notice for the first time a recurring feature in the New York Times business section profiling various corporate head honchos, which includes in many cases a mention of what they most recently have been reading. This week's entry, for instance, was for Mark Dunkerly, CEO of Hawaiian Airlines, who listed Alexander Massie's Peter the Great.
We should probably let better analysts than I consider whether or not a prolonged exposure to the reformist Czar's story will lead to any similarly ruthless acquisitions and expansions in the airline business, but if so, it will be an interesting example of the continuing salience and significance of historical examples, and how business intelligence is more than just a close reading of 10-Ks.
Other entries in the same occasional series featured Valencia Adams (enter library card number and ID to read the article through your library's Newspaper Source database), BellSouth's Chief Diversity Officer, who was reading Millionaire Women Next Door
Written on: November 7th, 2010 in Blog Posts
Burned on the water… For her own person,
It beggared all description: she did lie
In her pavilion, cloth-of-gold of tissue,
O'erpicturing that Venus where we see
The fancy outwork nature. On each side her
Stood pretty dimpled boys, like smiling Cupids,
With divers-coloured fans, whose wind did seem
To glow the delicate cheeks which they did cool,
And what they undid did."
So goes Enobarbus' deathless description of the first time he and Antony laid eyes on Egypt's queen, from Shakespeare's Antony and Cleopatra. This enigmatic and wily monarch has remained a perpetual subject of fascination for writers and biographers from before Shakespeare to the present day. This week's New York Times includes a review of Stacy Schiff's new biography, Cleopatra: A Life.
Schiff's self-professed aim was to "restore context", and while many 20th Century biographers have already buried the classical writers' propoganda which portrayed her as little more than a shameless seductress, Schiff also emphasizes her prodigious political savvy and intellectual prowess, while not denying that sex and sexuality were one among the many tools that she wielded in the pursuit of personal power and Egyptian independence from Rome. Schiff also makes the case, as Shakespeare's words make plain, that Cleopatra's effortless skill in using the power of spectacle to inspire her subjects and to dazzle potential allies, was a vital part of her strategy in dealing with both domestic and imperial politics.
If you can't wait that long, there are dozens of other books and videos on the same subject available from your Delaware libraries, varying in emphasis from romantic to academic, and for readers of all ages.
After reading one of more of these, you might be inspired to plan a final visit to Philadelphia's Franklin Institute, where the National Geographic exhibition Cleopatra: the Search for the Last Queen of Egypt is heading into its final weeks.
Written on: November 4th, 2010 in Blog Posts
The Government Post Office recently released the Naval War College's Armed Groups: Studies in National Security, Counterterrorism, and Counterinsurgency, an authoritative academic study that groups traditional terrorist organizations in a spectrum with militias, crime cartels, and other organizations. You can read most it on google books:
Back in June, we published a terrorism bibliography culled from other government and military-sourced recommendations. You can see that article here.
Written on: November 3rd, 2010 in Blog Posts
Where will you be when the last newspaper goes to press? According to this futurist, that day isn't all that far off in the U.S. and parts of Europe.
You can view the full Newspaper Extinction Timeline along with some notes on the methodology, or find out more at Ross Dawson's blog
Maybe as a last gasp, more and more newspapers are moving away from making their content available for free online- the advertising revenue hasn't been making ends meet for a long time. From the Times of London to the Worcester Mass. Telegraph, "paywalls" are becoming more and more common. The New York Times will be implementing a modified paywall access model early in 2011.
Clearly, publishers are hoping that a combination of micropayment options and the sale of mobile apps will prove to be a viable business model- but all of these models take the news further away from print delivery. This seems like a good time to remind you one more time that as part of your library privileges, access to all kinds of daily newspapers is included at no cost to you- whatever the publishers decide to do in the short-term. You can still access articles from the Times, New York Times, Wall Street Journal and thousands of other titles via library subscription databases such as Newspaper Source. Click here for access to our news and magazine databases, or bookmark our mobile-friendly database format at this link (enter library card number and PIN for access.)
Written on: November 2nd, 2010 in Blog Posts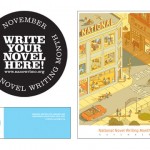 That's National Novel Writing Month, by the way, not the newest indie-rock sensation or social media platform. NaNoWriMo provides support, ideas, motivation, tips, and a wonderfully organized way to promote writing and literacy (through the Office of Letters and Light, out of San Francisco) for teens and adults.
Guest writers, such as Neil Gaiman, give pep talks to keep the momentum up. Participants plug along and come up with a (often rough) 50,000 novel by the end of November. Those who complete the 50,000 word limit are also given a certificate and an opportunity to have professional editing, all for free (of course, donations are accepted).
This year, NaNoWriMo is promoting library use. Next April, they'll be promoting a screenwriting event- Script Frenzy, and every year there is an emphasis on involving young adult writers.
Get your pencils sharpened! Or alternatively, you could write your book using Google docs- click here for an example
Written on: November 1st, 2010 in Blog Posts
As ever, this week's Sunday book reviews showcased a number of fascinating-looking titles, available from your local public library: