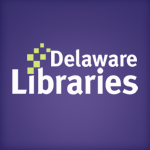 Facebook Twitter Pinterest Flickr Google+ YouTube Instagram
Archived Posts From: 2012
Written on: June 24th, 2012 in Q & A's
Q: "What exactly is a pine nut?  Is it really a nut and can you eat it?"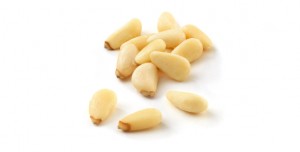 In a nutshell, yes!  Pine nuts, also known as Piñon nuts, are derived from various types of pine trees and have been a source of food for humans and animals for as long as they have been around.   They are small and elongated in shape and, according to "The Cook's Thesaurus", commonly used as a substitute in pesto and for snacking.  See information about pine and other nut/seed varieties on The Cook's Thesaurus at:
http://www.foodsubs.com/Nuts.html
Pine nuts are higher in protein than pecans, almonds and walnuts.  A chart comparing calories and nutrients of common nuts and seeds is provided by the University of Nebraska's Cooperative Extension, online at:
http://lancaster.unl.edu/food/ftmar04.htm
Further details can be found on the US Department of Agriculture's site, which has a handy search feature on the National Agriculture Library online for finding information about most foods.   Almost 8,000 foods are listed in this database.  Here is the direct link to information about pine nuts:
http://ndb.nal.usda.gov/ndb/foods/show/3745
You may remember Euell Gibbons; a pine nut enthusiast and naturalist who introduced the idea of identifying and eating food from the wild into our culture.  John Kallas, Ph.D.,  from  "Wild Food Adventures" online,  gives a brief biography of Mr. Gibbons who wrote three books that became very popular and "were packed with information on how to find, gather, and prepare wild foods. "
http://www.wildfoodadventures.com/euellgibbons.html
According to Dr. Kallas, Mr. Gibbons visited his library to gather information about wild foods, from identification to harvesting.  Libraries are your gateway to finding out about the world around you.  If you ever need any help finding reliable information, please feel free to ask a Delaware librarian, anytime!   You can do this in person at your local library, or online through our Ask a Librarian Delaware virtual reference service at:
http://lib.de.us/askalibrarian
We're glad to be of assistance and we're 247!
Written on: June 21st, 2012 in Blog Posts, Informal learning
The Delaware Heritage Collection features an exceptional collection of illustrations from the Wilmington Public Library.
In the middle of the 1950s, students of the Greenville Elementary School wrote letters to their favorite children's book authors, expressing their delight in the authors' work. The children invited the authors to visit them in their library. Many authors, such as H.A. Rey, Virginia Lee Burton and Ludwig Bemelmans contributed illustrations for the children to display in the "Author's Room."
This little known collection was given to the Wilmington Institute in the mid-1970s where two Friends of the Library resolved to process and preserve it for future library enthusiasts to enjoy.
Please explore the Greenville Elementary School Collection at the Delaware Heritage Collection.
Written on: June 17th, 2012 in Q & A's
Question:  Now that it's summer, what should I read?
Librarians love this question!  It not only means you're interested in reading, which puts sparkles in our eyes, it also gives us the opportunity to hone our reader's advisory skills.
In order to find a good match between you and the materials you'd like to read, we'll ask you some questions such as:
What types of books or magazines have you been reading recently?

What is it you liked about these?  (Considerations:  The setting?  Learning something new?  The style of writing?  That it was historical? )
Does it matter if it's a physical book or ebook?
Do you like books that are in a series?
What are your favorite types of stories? 

For example, do you like exciting mysteries, romances, thrillers, science fiction, etc.?  Some patrons prefer stories based on fact and biographies, too, or ones that were movies they watched that lead to interest in reading the books.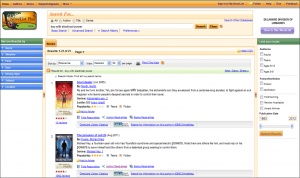 In addition to your interests, we'll also help determine books that fit your age and/or reading level.  There are so many out there to choose from.  To assist us, we have some great reader's advisory tools available, such as Novelist (Novelist Plus and Novelist K-8).  You can use this too!  It is linked through our catalog and also online at:
http://lib.de.us/index.php/ebooks-more/#11
When you click on Novelist Plus, you'll be prompted to log in using your 14 digit library card number (with no spaces) and PIN.  Once logged on, simply describe the type of book you're searching for in the main search field.
When asked for the title of a young adult novel I read a few months ago by a colleague to recommend to her 14-year old son, I just couldn't recall it.   Using Novelist, I searched for "boy with electrical powers" since that was what stood out for me.
Once the results show you should have plenty of options.  You can broaden or narrow your search using the topics on the left navigation side, such as by writing style, story line, and setting.   Look below each book cover to see "title read-alikes", "author read-alikes", and "series read-alikes".  In my case, I recognized the title and book cover right away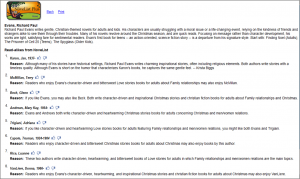 ("Michael Vey, The Prisoner of Cell 25" by Richard Paul Evans).    I also thought it might be interesting to see what Novelist would recommend as an author read-alike and clicked on that.
There were many options given and from the list, I can quickly see if any are immediately available at my local library through the catalog link, and place a request (aka "place a hold") on items that are currently checked out.
The online catalog also has links to best seller and recommended reading lists that can keep you up to date on popular fiction and non-fiction.  When you go to the catalog, available online from the Delaware Libraries' site at:
…look at the bottom of the catalog page for a plethora of top lists, from Oprah's to the New York Times.
These are some great ways to browse for items that spark your interest, but remember that your Delaware librarians are very happy to assist you with reading recommendations anytime, in person or online through our Ask a Librarian Delaware 247 chat service.   We love helping our Delaware patrons find new treasures, anytime!
Written on: June 14th, 2012 in Blog Posts, Learning
Dr. Annie Norman, Delaware State Librarian, was recently interviewed on Dr. Zara Larsen's Tucson, AZ radio show. Dr. Norman discussed the importance of lifelong learning in libraries. Very interesting and worth a listen!
LifeLong Learning in Libraries interview clip.
Written on: June 10th, 2012 in Q & A's
Question:  "Is there such a thing as an obituary for Sir Isaac Newton?"
Sir Isaac Newton, Mathematician and Physicist
(December 25, 1642 – March 20, 1727)
While the traditional obituary found in modern day newspapers didn't exist during Sir Newton's time, his legacy has prompted more recent testimonials of this type.  For example, on a site commonly used for finding locations of graves and historical markers called "Find-a-Grave", there is a reference (obituary style) to Sir Newton:
http://www.findagrave.com/cgi-bin/fg.cgi?page=gr&GRid=1277
Another commonly used resource written for view on Ancestry.com in 2006 offers a briefer summary:
http://boards.ancestry.com/topics.obits/62936/mb.ashx
Obituaries lean toward offering a tribute to a person's life with biographical highlights of that person's contributions.  It's easy to note that Sir Newton's gifts to our society have affected mathematics and physics ever since.
Biographies of this remarkable man are found in the Delaware Libraries' catalog in various formats, from print to electronic.  Here is a shortened, permanent link to the catalog's list:
Articles touching upon specific ways in which his work has affected math and science can be found through the Delaware Libraries' Ebsco databases, too.  This rich resource can be found online at:
http://lib.de.us/ebooks-more#10
There are hundreds of magazines and journals available to browse with a valid library account.  Just put in your 14-digit library card number and PIN, and you're on your way.  When I searched for "Isaac Newton" on Ebsco's Masterfile Premier, over 600 relevant articles came up!
If you ever need any help with using the databases or any aspect of finding information, please feel free to ask a Delaware librarian, anytime!  Just go to:
http://lib.de.us/askalibrarian
We're glad to be of assistance and we're 247!
Written on: June 5th, 2012 in Blog Posts
We're featuring Delaware Geeks!  Whatever your passion, whatever you geek, the library supports it! Watch an interview with our newest geek, Wilmington Blue Rocks mascot Rocky Bluewinkle!
Find out more at delawarelibraries.org or geekthelibrary.org and tell us what you geek on our facebook page
Written on: June 3rd, 2012 in Q & A's
Question:  "What are the dangers of feeding horses sheep mix food??"
Although horses and sheep are both foragers, their anatomy is different enough to require attention to the types of food offered.  Most cooperative extensions, such as through local universities and colleges, offer indepth information about farm animals.  They can provide rich resources into the research and current trends as well.
According to the North Dakota State University, for example, "Recommended feeding management of horses differs from that of other domestic livestock, primarily because of differences digestive anatomy and physiology."  The "horse is classified as a monogastric (simple stomach)" whereas… "ruminants (cattle and sheep) have extensive fermentation in the rumen prior to gastric digestion." This is found at:
http://www.ag.ndsu.edu/pubs/ansci/horse/as953w.htm
Sometimes sheep mix has an additive that is helpful for preventing illnesses in sheep, while not tested or known to be harmful to horses.  One example is Lasalocid, used in the United Kingdom.
http://www.rs.uky.edu/regulatory/feed/feed_labels/2012/Sheep-Lasalocid.pdf
Horses' metabolism also differs from sheep and the food requirements will need to be tailored to meet their daily needs.  There is discussion of this in detail from the Utah State University, Cooperative Extension, found at:
http://extension.usu.edu/cache/files/uploads/Alfalfa%20or%20Grass%20Hay%20for%20Horses.pdf
All in all, research and reputable recommendations agree that sheep mix food does not fare well for horses, based upon their different digestive and metabolic needs.  The dangers of this will vary by type of food and if it is medicated.  For specific information, it's best to consult with equine experts, such as through local 4-H clubs, cooperative extensions (the University of Delaware has a program at: http://sites.udel.edu/equine/ ), and reputable veterinarians who provide client education.
If you ever need any help finding reliable information, please feel free to ask a Delaware librarian, anytime!  Just go to:
http://lib.de.us/askalibrarian
We're glad to be of assistance and we're 247!
Written on: June 1st, 2012 in Blog Posts, Informal learning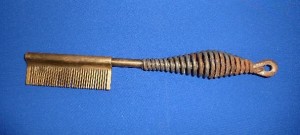 Do you know what this tool was used for?
This is just one of many obscure tools housed at the Pencader Heritage Museum, a small institution that collects all things related to the rich history of the Pencader Hundred area of Delaware. The museum, which opened in 2007, is located in a renovated barn built in 1865 on a field where the Battle of Cooch's Bridge was fought in 1777.
I highly recommend you make the trip to see memorabilia of the Cooch family, Revolutionary War items, Native American artifacts and a myriad of old maps and documents.
The Pencader Heritage Museum is located at 2029 Sunset Lake Road, in the Cooch Dayett Mills Complex. ( Route 72,  just south of Old Baltimore Pike )