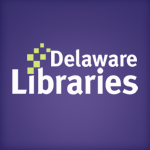 Facebook Twitter Pinterest Flickr Google+ YouTube Instagram
Archived Posts From: 2012
Written on: May 28th, 2012 in Q & A's
Question:  "What is the difference between relative humidity and dew point?  I hear this on my local weather broadcast but don't know what they mean."
This is right in time for the start of the summer season!  Whether it's offered as 'dewpoint' or 'dew point', the confusion of these terms it seems to be one that is fairly common.  And it's so commonly misunderstood some of those who give us daily weather forecasts discuss how to describe this to the public as well as providing a thorough explanation, as shown on Meteorologist  Jeff Haby's site "Weather Prediction" at:
http://www.theweatherprediction.com/
"Explaining Dewpoint and Relative Humidity to the Public" is specifically found at:
http://www.theweatherprediction.com/habyhints/190/
The U.S. Government Department of Energy's site also has information, as presented in a more informal question-answering style:
http://www.newton.dep.anl.gov/askasci/wea00/wea00130.htm
As stated there, "The first thing you need to realize is that warm air can hold more water than cold air. Then dew point makes sense."   The explanation then goes on to tell us that "dew point is described in degrees of temperature," while "relative humidity is given as a percent."
The NOAA's National Weather Service gives thorough definitions, too.  For dew point, the site states:  "A measure of atmospheric moisture. It is the temperature to which air must be cooled in order to reach saturation (assuming air pressure and moisture content are constant). A higher dew point indicates more moisture present in the air."  (see:  http://weather.gov/glossary/index.php?word=dew+point)
Relative humidity is "dependent upon temperature," according to NOAA's definition.  They further explain that it is:  "A dimensionless ratio, expressed in percent, of the amount of atmospheric moisture present relative to the amount that would be present if the air were saturated."  (see:  http://weather.gov/glossary/index.php?word=relative+humidity)
In case you are interested, there is a humidity calculator you can freely use online, offered through Vaisala:
http://www.vaisala.com/humiditycalculator/?SectionUri=%2finstruments%2frhcalc
Just click on "start the humidity calculator" and give it a try!  It just may help give you a view of how dew point is affected by humidity and overall how temperature plays a role.  (Tip:  You can change the temperature calculator from Celsius to Fahrenheit if desired.)
All this talk of rising temperatures and humidity may get you longing to head to a beach or community pool but wondering where to go.  Feel free to ask your librarians, anytime you have questions!  Just log onto our library chat service, Ask a Librarian Delaware:
http://lib.de.us/askalibrarian
We're glad to be of assistance and we're 247!
Written on: May 20th, 2012 in Q & A's
Question:  "I hear people say 'For Pete's Sake' a lot. Do you know where I can find the real story where it comes from?"
According to Douglas Harper (historian, author, journalist and lecturer based in Lancaster, Pa) on his site, "The Online Etymology Dictionary" found at:
…the modern use of this phrase can be found documented from 1924.  See the specific page on "Peter" at:
http://www.etymonline.com/index.php?term=peter
An earlier use can be dated to the Middle Ages but it is believed that it was more an exclamation of the Apostle Peter's name ("Peter!") rather than "For Pete's sake!"
The site, Reference.com, offers information about the evolution of this phrase, moving from "for the love of Mike" to "for pity's sake" and then changing to "For Pete's sake."
http://www.reference.com/motif/reference/for-pete%27s-sake-origin
The underlying theme:  to have a way to shout out without offending or using profanity, such as when a person stubs her toe.  However, if my friend Peter was nearby when this occurred, it could really cause some confusion!
If you ever need any help with finding information, please feel free to ask a Delaware librarian, anytime!
Just go to: http://lib.de.us/askalibrarian
We're glad to be of assistance and we're 247!
Written on: April 26th, 2012 in Blog Posts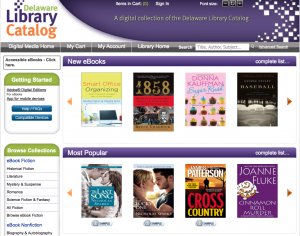 The Pew Research Center's Internet & American Life Project, a non-profit research organization in Washington, DC, is conducting an online survey of public library patrons who borrow e-books. If you have checked out or downloaded e-books from a public library, please consider taking Pew Internet's survey, available at the link below. All responses will be confidential, although your answers may be quoted anonymously in a future report. The survey should take about 15 minutes.
To take the survey, visit: http://libraries.pewinternet.org/participate/survey/e-book-borrowers
The Pew Internet Project will also be doing broader surveys of public library patrons general, as well as people (including non-library-users) who own e-readers or tablet computers. If you want to participate in those, you can sign up to be notified of future surveys here.
To learn more about the Pew Internet Project's research on e-reading and public libraries, which is entirely free and available to the public, visit libraries.pewinternet.org.
Don't want to miss news or blog posts?  Like us on Facebook or follow us on Twitter.
Written on: April 20th, 2012 in Blog Posts
Some of America's favorite musicians and book lovers created a song to encourage everyone, young and old, to pick up a book. The track for the Reading is Fundamental organization was produced by The Roots with vocal support from Jack Black, Chris Martin, John Legend, Jim James, Jason Schwartzman, Nate Ruess, Melanie Fiona, Carrie Brownstein, Regina Spektor and Consequence. The star studded music is accompanied by a video which features many beloved storybook characters.
Visit the new website, take the Book People Unite pledge, and declare your belief in the transformative power of books, especially for young minds. When you sign up to take the Book People Unite pledge you will be given a free full-length copy of the new song.
Written on: March 5th, 2012 in Blog Posts, Director, Informal learning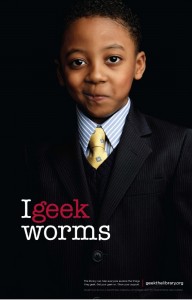 Throughout Delaware, a wave of grassroots passion is brewing…
Don't be surprised if your local librarian approaches you and asks, "What do you Geek?"
Reading…Gardening…Science…Crafts…Sports…Nature…Cooking…
What is the topic that fascinates you, what are you passionate about?  Whatever your passion, whatever you "geek," the library supports it.  Delaware libraries help you indulge that passion with millions of books, movies, music, magazines, newspapers, Internet access, programs, and more!  And with your computer or smart phone, you can access library services from wherever you are – whenever the mood strikes!
Throughout 2012, your librarians are revealing their own style of geekiness to encourage you to share yours.  What better way to relieve stress and beat the economy than to unleash our passions?  Let's all put our expertise and ingenuity to work for our future! And let's all have lots of fun while we're at it!
Get your geek on, Delawareans! 
Annie
Annie Norman, Ed.D.
State Librarian/Director
Find out more at geekthelibrary.org and tell us what you geek on our facebook page
Written on: February 21st, 2012 in Blog Posts
According to the "2009 Caregiving in the U.S. report by the National Alliance for Caregiving and AARP, it was estimated that approximately 48.9 million men and women in the United States provided unpaid care to someone older than age 18. These caregivers represented an estimated 28 million households (24% of all U.S. households). The one-year economic value of this unpaid labor force was recently estimated to be $450 billion."
If you or someone in your family is a caregiver to an aging parent, a parent to a child needing extra care, or a family member caring for someone suffering from a chronic illness or disease, there is a new LibGuide on Caregiving that features books, websites, and other resources to assist you as you assist others.
http://guides.lib.de.us/caregiving
Written on: January 26th, 2012 in News
The Delaware Library Catalog mobile app is now available through app stores!  Find your local public library, get locations and hours, check your account, place holds, renew, and more!  The app works on most mobile devices/smart phones including Android, iPhone, iPad, Blackberry, and Palm.
Download it for FREE today at the App Store or Android Marketplace.
Don't want to miss news or blog posts?  Like us on Facebook or follow us on Twitter.
Written on: January 24th, 2012 in Blog Posts
Checking out books is more convenient than ever with the new digital collection of the Delaware Library Catalog! For those who are new to eBooks, Librarian Diann Colose demonstrates how to download and begin reading in just a few steps with a Delaware Library Card and an internet connected computer.
Step One: Install Software
1. Adobe Digital Editions must be installed for all ePub formats. Kindle, PDF, and mobile formats are also available.
2. Any other required software for your device (Example: Sony Readers require the 'Reader Library Software').
Step Two: Authorize Software
1. Open Adobe Digital Editions. The 'Setup Assistant' dialog box is displayed.
2. Click 'Continue'. The 'Activation' screen is displayed.
3. Under 'Authorize Computer', enter the email address and password for your Adobe ID. If you do not have an Adobe ID, click 'get an Adobe ID online'.
• Follow the instructions to sign up for an Adobe ID.
• Return to the Activation screen.
• Enter the email address and password for your Adobe account.
4. Click 'Activate'.
5. Click 'Finish' to close the 'Setup Assistant' dialog box.
Step Three: Visit your library's Virtual Branch at http://lib.de.us/index.php/ebooks-eaudiobooks/
1. Browse for a title.
2. Check out with your information.
3. Download the title.
Step Four: Transfer to your eBook reader
1. When you download your title, Adobe Digital Editions opens automatically.
2. Connect the eBook reader to your computer, and follow the prompts to authorize your device. Use the same Adobe ID as entered in Step 2. When complete, link for your reader should display under 'Bookshelves'.
3. Drag and drop the Adobe eBook to your eBook reader (under 'Bookshelves').
4. When the transfer is complete, disconnect the eBook reader and enjoy!
For further instructions please visit our eBook support section of the site, which explains how to use all of the most popular eReaders.
Written on: January 18th, 2012 in Blog Posts
Do you now look forward to watching TV on Sunday evening?
Are you rooting for Anna and Bates?
For Matthew and Mary?
Do you hope O'Brien gets her comeuppance?
Does the thought of Maggie Smith as the Dowager Countess of Grantham sitting in a swivel chair or asking the question, "What is a weekend"? make you smile?
If you answered yes to these questions, you are a Downton-head. Welcome to the club!
The Genres LibGuide http://guides.lib.de.us/genres offers a reading and watching list of books and videos to expand and enhance your enjoyment of the aristocratic Crawley family and the loyal, yet sometimes manipulative, servants of Downton Abbey.