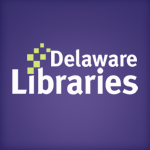 Facebook Twitter Pinterest Flickr Google+ YouTube Instagram
Delaware Public Libraries Mobile App is here!
Written on: January 26th, 2012 by: in News
The Delaware Library Catalog mobile app is now available through app stores!  Find your local public library, get locations and hours, check your account, place holds, renew, and more!  The app works on most mobile devices/smart phones including Android, iPhone, iPad, Blackberry, and Palm.
Download it for FREE today at the App Store or Android Marketplace.
Don't want to miss news or blog posts?  Like us on Facebook or follow us on Twitter.