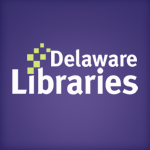 Facebook Twitter Pinterest Flickr Google+ YouTube Instagram
Archived Posts From: 2012
Written on: January 26th, 2012 in News
The Delaware Library Catalog mobile app is now available through app stores!  Find your local public library, get locations and hours, check your account, place holds, renew, and more!  The app works on most mobile devices/smart phones including Android, iPhone, iPad, Blackberry, and Palm.
Download it for FREE today at the App Store or Android Marketplace.
Don't want to miss news or blog posts?  Like us on Facebook or follow us on Twitter.
Written on: January 24th, 2012 in Blog Posts
Checking out books is more convenient than ever with the new digital collection of the Delaware Library Catalog! For those who are new to eBooks, Librarian Diann Colose demonstrates how to download and begin reading in just a few steps with a Delaware Library Card and an internet connected computer.
Step One: Install Software
1. Adobe Digital Editions must be installed for all ePub formats. Kindle, PDF, and mobile formats are also available.
2. Any other required software for your device (Example: Sony Readers require the 'Reader Library Software').
Step Two: Authorize Software
1. Open Adobe Digital Editions. The 'Setup Assistant' dialog box is displayed.
2. Click 'Continue'. The 'Activation' screen is displayed.
3. Under 'Authorize Computer', enter the email address and password for your Adobe ID. If you do not have an Adobe ID, click 'get an Adobe ID online'.
• Follow the instructions to sign up for an Adobe ID.
• Return to the Activation screen.
• Enter the email address and password for your Adobe account.
4. Click 'Activate'.
5. Click 'Finish' to close the 'Setup Assistant' dialog box.
Step Three: Visit your library's Virtual Branch at http://lib.de.us/index.php/ebooks-eaudiobooks/
1. Browse for a title.
2. Check out with your information.
3. Download the title.
Step Four: Transfer to your eBook reader
1. When you download your title, Adobe Digital Editions opens automatically.
2. Connect the eBook reader to your computer, and follow the prompts to authorize your device. Use the same Adobe ID as entered in Step 2. When complete, link for your reader should display under 'Bookshelves'.
3. Drag and drop the Adobe eBook to your eBook reader (under 'Bookshelves').
4. When the transfer is complete, disconnect the eBook reader and enjoy!
For further instructions please visit our eBook support section of the site, which explains how to use all of the most popular eReaders.
Written on: January 18th, 2012 in Blog Posts
Do you now look forward to watching TV on Sunday evening?
Are you rooting for Anna and Bates?
For Matthew and Mary?
Do you hope O'Brien gets her comeuppance?
Does the thought of Maggie Smith as the Dowager Countess of Grantham sitting in a swivel chair or asking the question, "What is a weekend"? make you smile?
If you answered yes to these questions, you are a Downton-head. Welcome to the club!
The Genres LibGuide http://guides.lib.de.us/genres offers a reading and watching list of books and videos to expand and enhance your enjoyment of the aristocratic Crawley family and the loyal, yet sometimes manipulative, servants of Downton Abbey.