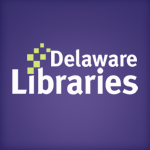 Facebook Twitter Pinterest Flickr Google+ YouTube Instagram
Archived Posts From: 2015
Written on: February 19th, 2015 in Archives
The Delaware School Libraries Council, with support from the Delaware Department of State and the Department of Education, is embarking on a Statewide Master Plan for Delaware School Libraries, a comprehensive planning effort designed to create a vision that will inform solutions for the development of state-of-the-art school libraries.
The year-long planning effort, which will appraise the current status of school library services and will address future trends and needs, will be conducted by the Institute for Public Administration (IPA) at the University of Delaware and Himmel & Wilson, Library Consultants. IPA has an extensive project management and strategic planning background in the public sector. Himmel & Wilson specializes in evaluation and planning services for libraries.
"Delaware has made a great investment in upgrading the services offered to residents in our 35 public libraries across the state," said Secretary of State, Jeff Bullock. "Creating a Master Plan for Delaware's school libraries ensures students will have the resources they need to be successful within their schools."
"This is an opportunity for our school librarians, teachers, administrators, students and families to share their needs and help us coordinate services and resources across our state and between our public school and library systems," Secretary of Education Mark Murphy said.
This school library planning process builds upon the strategic Statewide Master Plan for Delaware Public Libraries which resulted in significant improvements in public library buildings and sharing of library collections statewide through the Delaware Library Catalog. "A statewide strategic approach to all library services will support Delawareans in achieving potential in their education, careers, and throughout life," according to Dr. Annie Norman, State Librarian and Chair of the Delaware School Libraries Council.
The consultants will review background documents and national research, and will obtain input from school librarians, educators, district administrators, students, parents, legislators, and the public through surveys, site visits, interviews, and focus groups. A focus of the researchers is determining the most effective methods to integrate electronic resources, instructional technologies, and information literacy/fluency at the individual school-building level. The project will identify ways to utilize print resources to engage elementary-age children with reading, and methods to equip older students to navigate and apply information resources in the post-secondary realm.
The final plan submitted to the Delaware School Libraries Council will provide recommendations for an integrated framework for school libraries, including library services, collections, funding, staffing, operating costs, maintenance, performance indicators and measures, policies, and state and local governance. The summary of efforts to improve school libraries to date and the recommendations for the Statewide Master Plan for Delaware School Libraries can be found in the 2013 Annual Report of the Delaware School Libraries Council.
Written on: February 16th, 2015 in Archives
We're a proud partner of In Her Shoes – a nonprofit dedicated to helping former female inmates find jobs and reducing recidivism.  The News Journal recently highlighted the great work of In Her Shoes, "DSBC grant helps improve lives of female ex-cons."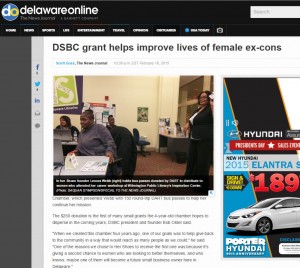 Written on: February 9th, 2015 in Archives
The News Journal recently highlighted coding classes offered in libraries throughout the state,"Code class sets early computing path for Delaware youth."
"At the center of each session is Scratch, a sort of gateway activity into coding, developed by the Massachusetts Institute of Technology. Its approach offers users a simple, block and symbol-based "language" that encourages users to consider logic, order, timing and keyed in specifics to make things happen – from a dancing cat to a full-on game."
For more information on coding classes check with your local library or the Delaware Libraries events calendar.