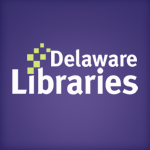 Facebook Twitter Pinterest Flickr Google+ YouTube Instagram
Archived Posts From: 2013
Written on: September 24th, 2013 in Archives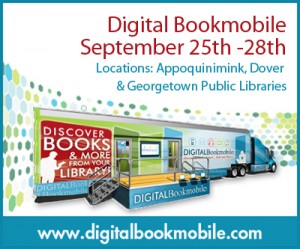 Delaware Libraries are excited to host Overdrive's Digital Bookmobile National Tour (www.digitalbookmobile.com)!
Wednesday, September 25; Appoquinimink Public Library from 1:00 p.m. – 7:00 p.m.
Thursday, September 26; Dover Public Library from noon – 6:00 p.m.
Friday, September 27; Georgetown Public Library from 10:30 a.m. – 4:30 p.m.
Saturday, September 28; Georgetown Public Library from 10:30 a.m. – 3:30 p.m.
The Digital Bookmobile is housed inside an 18-wheel tractor-trailer. This 74-foot community outreach vehicle is a high-tech update of the traditional bookmobile that has served communities for decades. The vehicle is equipped with broadband Internet-connected PCs, high definition monitors, premium sound systems, and a variety of portable media players, all of which help visitors explore Delaware Libraries download service. Interactive learning stations give visitors an opportunity to search the library's digital media collection, use supported mobile devices, and sample eBooks, audiobooks, music, and video.
At these free events, readers of all ages will learn how to download eBooks from the library through interactive demonstrations and high-definition instructional videos. A gadget gallery—featuring Kindle®, iPod® touch, Android™ tablet, NOOK™, Sony® Reader™, BlackBerry®, Windows® Phone, and more—will help visitors discover portable devices that are compatible with the library's download service.
The download service is available for library cardholders who can check out and download digital titles anytime, anywhere by visiting www.delawarelibraries.org. From this website, cardholders can browse the growing collection of bestselling, new release, and classic titles, and check out a digital title with a valid library card. Once downloaded, digital titles can be enjoyed on a computer or transferred to supported mobile devices. Many audio titles can also be burned to audio CD. At the end of the lending period, titles will automatically expire and are returned to the digital collection. There are never late fees or damaged items.
In August 2013, eBook circulation increased by 46% over August 2012, while eAudiobook circulation was up by 141% compared with August 2012 circulation.  Total downloads in August set a new record of 18,464 for the month. Also, on the recent Labor Day holiday, when all public libraries are closed, Delaware libraries experienced the largest number of eBook/eAudiobook checkouts ever in a single day.  Over 700 people downloaded eBooks that day.
The Digital Bookmobile is a service of the Delaware Libraries Consortium and is operated by OverDrive, Inc. To check out and download digital books and more, visit http://delawarelibraries.org.
Written on: September 23rd, 2013 in Archives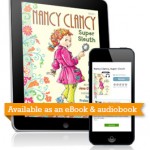 Delaware Libraries are taking part in Overdrive's Big Library Read program. Library card holders will be able to borrow and enjoy eBook and eAudiobook versions of the Big Library Read book, "Nancy Clancy, Super Sleuth" by Jane O'Connor, through September 30th by visiting the Delaware Libraries eBook portal.
The Big Library Read is an international program that gives libraries and library patrons unlimited simultaneous access to a popular title for a two-week period, creating a virtual, global book club. Interested patrons will be able borrow Book 1 in the Nancy Clancy series using a valid library card, and enjoy on all major computers and devices, including iPhone®, iPad®, Nook®, Android™ phones and tablets, and Kindle® without worrying about wait lists or holds. Titles will automatically expire at the end of the lending period. There are no late fees!
The Big Library Read program is made possible through a partnership between OverDrive, the leading supplier of eBooks and more to libraries, and HarperCollins, publisher of the best-selling Fancy Nancy series of children's titles.
Connect with us: