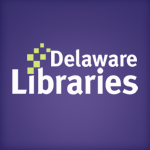 Facebook Twitter Pinterest Flickr Google+ YouTube Instagram
Q: "Does the library have a history of items I've checked out over the last few years?"
Written on: March 24th, 2013 by: cathay in Archives, Q & A's
Q: "I checked out a book about 3 years ago and would like to recommend it to someone. Does the library keep record of books that have been checked out on my card #?"
It's great to have a record of what you've checked out from your Delaware library to read, listen to and watch.  Over time, it's sometimes hard to remember titles and authors, but perhaps the story had a lingering, important significance for you and you'd like to find it again.
Because libraries value patron privacy they do not keep records of items that have been returned (and which have no fines or fees attached); this clears them off your record.  Ebooks and eAudiobooks automatically expire from our patrons' accounts on their due dates, too.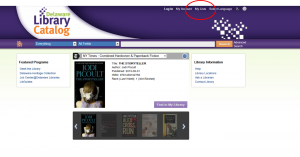 To keep a history of items, you have a couple of good options: using your own library account on the Delaware Library Catalog and through Goodreads, "a 'social cataloging' website founded in December 2006 and launched in January 2007 by Otis Chandler, a software engineer and entrepreneur and Elizabeth Chandler" (Wikipedia on Goodreads, retrieved March 2013).
I'll explain the steps in the new Delaware Library Catalog since we have previous postings to help with the older version.  If you have created and saved lists on the older catalog, you may also transfer these to the new one, but it's worth noting that this is allowed only once so you'll need to maintain your new list on the new catalog (you can't transfer or 'sync' lists repeatedly).
To create a list that you can use from this point on, go to the new catalog's "My Lists" feature linked in the upper right corner of the Delaware Library Catalog home page.   When you click on that, you'll be prompted to log in using your 14-digit library card number and PIN – that will be on the left hand side of your screen.  (Alternatively, you can log in prior to clicking on "My Lists.")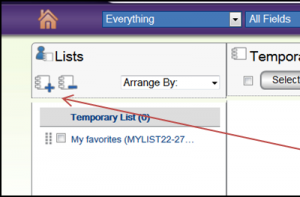 To add new lists simply click your mouse on the "+" that is next to an image of a spiral notebook.  Name the list and you're ready to use it.  If you have more than one list, make sure to activate the one you want to work with.
To delete any unwanted lists, you can check the box next to the one you're ready to delete and press the "-" that is next to the image of the spiral notebook.
The Delaware Library Catalog has a handy guide providing further details and screenshots to help walk you through creating and working with "My Lists" on their "New Catalog help" page.  You may consider making different lists for your varied tastes, such as "Cookbooks", "Mysteries" and "Favorite Movies."  Adding titles to these is as easy as clicking and naming each list.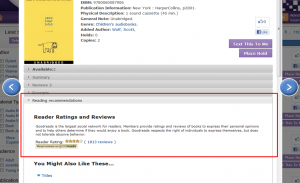 Goodreads is a free, external site that is also a way to keep track of items you've read, watched and listened to, but in a way that is social.  You and your friends can rate titles, provide summaries, and recommend books on this sharing network.  In fact, when you are looking for titles on the Delaware Library Catalog, you can also see Recommendations – and many of these are linked through Goodreads.  The screen shot on the right shows a view of "Reading Recommendations" with over 1800 Goodreads' Reader Ratings and Reviews for the book, 'Love that Dog' (as of March, 2013).
We hope this provides you with what you need to create lists that you can keep for years to come.   It's fun to see our personal lists grow throughout time and be reminded of the stories we've experienced and that have touched us, and, as you have noted, to be able to refer specifically to something that we'd like to recommend to others.
Please feel free to contact us anytime you have questions in person and online through our Ask a Librarian Delaware service.  We truly appreciate your support and use of our Delaware libraries!