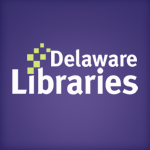 Facebook Twitter Pinterest Flickr Google+ YouTube Instagram
eBooks Available 24/7
Written on: November 13th, 2012 by: robert.wetherall in Blog Posts, News, Reading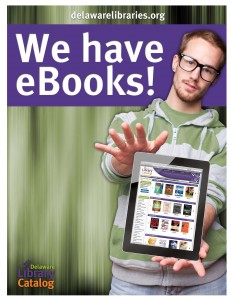 Americans have discovered eBooks in a big way.  In 2012, for the first time, publishers have reported that eBook sales have exceeded the sales of hardcover books.  Libraries have not ignored these trends, and Delaware libraries loan eBooks to their patrons for no charge.
Delaware public library patrons have had access to eBooks and eAudiobooks for less than a year, and they have discovered just how easy it is to borrow titles for their Kindles, Nooks, and iPads, etc.
Book lovers have been borrowing over 11,000 titles every month – an average of almost 400 per day!  And during the recent storm eBook checkouts increased 42% during the 4-day event.  It's really easy to start using these resources—all you need is a valid library card from any Delaware public library.
If you prefer to read your titles on your e-reader or tablet, the Delaware OverDrive collection is the place to go.  This collection contains popular fiction and nonfiction titles to choose from.  Many current bestsellers are included, as are titles for teenagers and kids.  To use this collection, go to www.delawarelibraries.org, click on the eBooks & eAudiobooks tab and navigate to the OverDrive site.  Or, if you have a tablet or smartphone, you can download the free OverDrive app for a truly seamless eBook experience.
Whatever e-format you are looking for, and no matter what sort of device you own, you can find a title you want to read or listen to from a Delaware library.  Try it today!