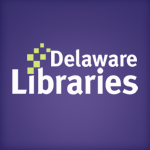 Facebook Twitter Pinterest Flickr Google+ YouTube Instagram
eBooks On the Move: Tablets Versus eReaders
Written on: December 29th, 2011 by: Bill Ferrell in Blog Posts, News, Reading, Reviews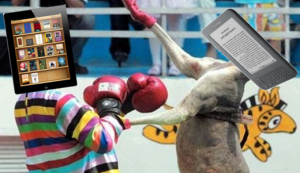 The modern reader encounters scads of devices which tout the ability to enjoy eBooks anywhere. A broad range of options for screen size, battery life, speed, and web compatibility make the choice complex. Consider your own reading habits when deciding which device best suits your lifestyle.
Tablets offer nearly all the power of a home computer, yet are light and handy for travel. With screens commonly ranging from 7 to 10 inches, they are larger than a paperback, but still smaller than a newspaper. The functional web-browsers are able to peruse the Delaware Library Catalog, check out an eBook, and begin reading, all from the same device! As tablet battery life reaches 10 hours plus, they have become an enticing option for digital readers on the go.
On the other hand, the market for eReaders found its audience, with device prices starting around the cost of a hardcover book. The most compact eReaders can fit in a deep pocket, are about 7 ounces, and boast over 100 hours of battery life. Many eReaders have limited web functionality, so you need to use a computer to check-out eBooks, and then move them to your eReader via USB or Wi-Fi connection.
The odd-man-out in this discussion is the ubiquitous smartphone. Not quite a personal computer, but more than a mini-tablet, an Android smartphone user can find the Overdrive Media Console in the Android App Market to download books directly to their phone. Imagine the next time you are waiting in an airport or a doctor's office that you can use your cellphone and a Delaware Public Library card to check-out, download, and read an eBook while you wait!