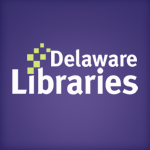 Facebook Twitter Pinterest Flickr Google+ YouTube Instagram
Job Center@Delaware Libraries
Written on: October 14th, 2011 by: in Blog Posts
Today, the Delaware Division of Libraries officially launched the Job Center@Delaware Libraries program. Four Job Centers are now open at the Dover Public Library, the Georgetown Public Library, the Seaford Library & Cultural Center, and the Wilmington Institute Library. These centers are designed to empower their users by assisting them in finding the information they need and in developing skills that are essential to securing employment.
Yesterday, reporter Jeremy Tucker of WBOC sat down with Job Center Coordinators Bernadette Connell (Dover) and Allie O'Neill (Wilmington). Read the story here.
For more information on Job Center@Delaware Libraries: http://lib.de.us/jobcenter
Don't want to miss news or blog posts?  Like us on Facebook or follow us on Twitter.