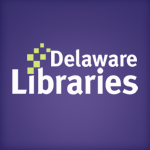 Facebook Twitter Pinterest Flickr Google+ YouTube Instagram
Steve Jobs 1955-2011
Written on: October 7th, 2011 by: in Blog Posts
The world lost a great visionary on Tuesday with the passing of Steve Jobs. He saw what was and made it better. The below commercial from 1997, though narrated by him, most certainly applies to him.
If you would like to read more about Steve Jobs' life and work check out these books from the Delaware Library Catalog or search for magazines and newspaper articles.
Don't want to miss news or blog posts?  Like us on Facebook or follow us on Twitter.