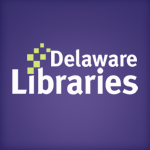 Facebook Twitter Pinterest Flickr Google+ YouTube Instagram
Hard at Work: labor and industry in Delaware
Written on: September 20th, 2010 by: in Blog Posts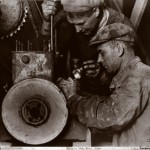 Over the next few months, the Delaware Humanities Forum will be presenting a book discussion series reflecting the history of labor and industry in Delaware. Events take place at Dover's Wesley College Sept. 30, Oct. 20 and Nov. 10 at 7 p.m. Set around the theme "hard at work", the events will include scholarly discussion, dramatic readings from Wilmington's City Theater Company, and other entertainment. No registration is required and all events are free of charge.
The books which will be discussed are:
Song Yet Sung by James McBride: Before the Civil War, runaway slaves flee through the swamps of Maryland's Eastern Shore, chased by Patty Cannon's gang of kidnappers. The Code of the Underground Railroad tells them how to go. But fugitive Liz Spocott has strange dreams of the future. Thursday, Sept. 30 at 7 p.m. in College Center 206. Percussionist Kamau Ngom will perform African drum music and talk about the African connection to blues music, country shouts and the Underground Railroad.
In the Beauty of the Lilies by John Updike: Between 1910 and the 1990s, four generations of the Wilmot family confront the modern America of factories, unions, booming cities, and the fascinating movie business. But there's a spiritual loss, and small-town Delaware remains a refuge from ruthless competition. Wednesday, Oct. 20 at 7 p.m. in Slaybaugh Hall's Wells Theater. Terry Snyder of the Hagley Library will talk about Delaware's early millworkers.
Empire Falls by Richard Russo: In this Pulitzer Prize-winning novel, the fictional river town of Empire Falls, Maine, is dominated by the wealthy Whiting family dynasty, even after the old textile mills close because of overseas competition. Yet the local people who gather at the Empire Grill diner prove to be resilient regardless of corporate fortunes. Finally a credit-card bank buys up and transforms the riverfront buildings. In real life, Delaware-based MBNA bank did this in Camden, Maine, novelist Russo's hometown. University of Delaware business history specialist Jonathan S. Russ will talk about the evolution of modern industry. Wednesday, Nov. 10 at 7 p.m. in Slaybaugh Hall's Wells Theater.
There is no fee to participate, and no registration required.