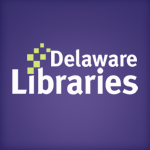 Facebook Twitter Pinterest Flickr Google+ YouTube Instagram
Where did those links go!
Written on: September 4th, 2010 by: in Blog Posts
As part of the move to the new online library catalog, it's also been possible to simplify users' access to the subscription databases and research tools offered to all Delaware public library users. Your public library has long been about more than books, music and movies- you can access thousands of online magazines, scientific journals, and newspapers from around the world with Newspaper Source, MasterFile, and Academic Search; find essential resources in subjects such as health, auto repair, and small business; and conduct genealogical research.
Prior to online catalog upgrade, library users would need to log in to their account to see a list of links to these resources. We've now moved the links to a different webpage, which allows us to offer more information about the different services. This page can be found at the e-resources page or by clicking on the link for Magazines and Databases along top of the page in any of the main library catalog search pages. Currently, a couple of the resources- the genealogical site HeritageQuest and the business-oriented ReferenceUSA site- are still only available through the login to the catalog while we finalize the revisions to authorized access with the vendors. The juvenile-class patron logins still offer access to age-appropriate databases for homework help and other reference use.