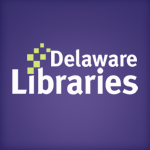 Facebook Twitter Pinterest Flickr Google+ YouTube Instagram
Bill Gates in and on the News
Written on: January 29th, 2010 by: in Blog Posts
Some of us may be Apple fans in our private lives, but everyone in the Delaware library community has a great deal of respect for the contributions of Bill and Melinda Gates in bringing computer and internet access to public libraries across the state. February 2010 will mark the end of Delaware's participation in the Bill and Melinda Gates Foundation's "Opportunity Online" grant program which has supported the purchase of public access computers in libraries serving needy areas.
The Gates Foundation is continuing to assist the development and sustainability of public computing as a central service of public libraries- other states are beginning the Opportunity Online program this year, and the Delaware Division of Libraries is receiving assistance from the Foundation to prepare its application for stimulus money through the American Recovery and Reinvestment Act.
Gates recently started to use twitter and launched a new blog. In a recent blog post on his new website, Bill Gates discussed where he gets his news:
I do read quite a few magazines and newspaper. I like the Economist because it provides good background knowledge. Scientific American is very good and so is the New Yorker. We get the Washington Post, the Wall Street Journal, the Financial Times, and the New York Times. I tend to read the New York Times and the Wall Street Journal online but I read the Economist almost entirely offline. I read Slate quite a bit, too. Slate is good because if you go there, you always find three or four things that are very interesting.
The same media that sustain Gates' phenomenal creativity and innovation are available to you through your public library- both in print and for the most part, also online. The Economist– thought by many to be the world's single best general news resource, is available in most libraries to read in print, but can also be accessed online from home in full text through e-subscriptions managed by the Division of Libraries. Readers can access full content from the most recent issue all the way back to 1990. Scientific American, another one of the world's most important periodicals, is also available in print and online. The New York Times and Washington Post can be accessed online with nothing more than your Delaware Library Card- especially important now that so many major news publishers are actively moving their formerly free content behind 'paywalls' and requiring per-article payment or site subscriptions.