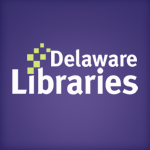 Facebook Twitter Pinterest Flickr Google+ YouTube Instagram
Archived Posts From: 2009
Written on: March 12th, 2009 in News
This was a recent posting on the NPR librarian blog that caught my eye:
Problem 1: Need to check in for tomorrow's flight in case it's oversold (let's just say, lessons learned)
Problem 2: Gracious host, like self, has gone paperless at home and chucked her inkjet
Solution: Is the library open on Sunday?

When we pulled into the parking lot it was about 70% full, and every reserve computer was taken. But our task was brief, so after getting a visitor ID from the helpful staff, we scored a short-term use computer that didn't require a reservation. Fifteen minutes and forty cents later, we were already debating where to eat next. Added bonus: we even made it into the "A" boarding group. Thanks, Austin!
Libraries open on Sunday in Kent and Sussex counties include Dover Public Library, Kent County Public Library, and Georgetown Public Library. Most of our libraries offer either a guest privilege for computer use or an internet use only library card for out-of-state users.