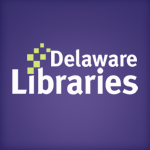 Facebook Twitter Pinterest Flickr Google+ YouTube Instagram
Email Notifications
Written on: February 26th, 2009 by: in News
Thanks for all of the enthusiasm and approving comments that have been heard in the libraries concerning our new email notices! Not only is this new service providing a new level of convenience to library patrons, it also enables libraries to save money and increase staff efficiencies- two things that are increasingly important during these difficult financial times.
Don't forget: to sign up for email notices all you have to do is provide a current email address to a staff member the next time you visit one of the Delaware Library Catalog libraries!
Don't forget that we ALSO offer weekly lists by email of library materials newly added by the libraries, lists of selected web resources, and notices when this webpage is updated. Check out the "connect with us" section on the left-hand side of this page for more details, or to sign up for our "new item feeds".
Card-holders who provide email addresses may receive following email services:
Notices of available holds: patrons who are currently being notified by phone will also receive an email.
Email notices of returns due: patrons may receive an email from their library three days before an item is due.
Email notices for overdue library materials.
Email notification when selected new titles or subjects are available in the Delaware Library Catalog (click here for instructions.)
If you want to receive email notices from your library, please make sure that you have an up-to-date email address on file by updating your patron record next time you are in the library. If you do not want to receive email, you can ask to have your email address removed from your patron record if you have already provided it- if you didn't provide one, you don't have to do anything!
If you have junk-mail controls in your email service, you may wish to add sirsi@endeavor.sirsi.net to your list of approved senders. Most library notices will be titled Library Notice (Do not reply to this Email)