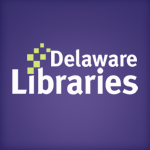 Facebook Twitter Pinterest Flickr Google+ YouTube Instagram
Tactile Map of the Wilmington Public Library
Written on: February 25th, 2016 by: Sarena Deglin in Archives
A couple months ago I was invited by one of my colleagues to a small gathering at the Wilmington Public Library to strategize ways to leverage the library's 3D printers to help patrons with visual impairments. This had been an interest of mine, since the spring of 2014 when I first introduced a 3D printer and print to a member of the Delaware Library Access Services Friends Group.
Apparently it is one of Carl Shaw's interests as well.
As the Inspiration Space Coordinator for the Wilmington Public Library, Carl has the fortune of working with a variety of library patrons, including Derek Alexander of the Delaware Division for the Visually Impaired (DVI). Carl and Derek experimented with some of the video recording and editing tools available to them at the Inspiration Space (such as a green screen and DSLR camera) to create a short video in which they discussed some practical applications for 3D printing to help the visually impaired. Please view their video by clicking here: 3D Printing for the Visually Impaired: Inspiration Space-Wilmington.
Together they came up with the idea to print a tactile map of the library.
Using the floorplan provided in a brochure, we created a basic electronic map comprised primarily of solid black lines and rectangles. We opened the floorplan in Microsoft Publisher, traced the shapes that represented the reference desk, bookshelves, elevators, and other features that we thought would be relevant to someone using the map as a library way finder. Through a couple of electronic file conversions using software such as Inkscape and the online 3D modeling application Tinkercad, we created a series of .stl files – a format commonly recognized by 3D modeling software.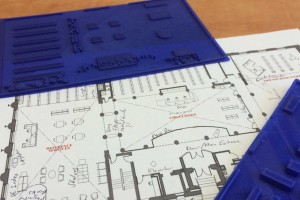 Our first iteration has proven promising. We have a couple of prints, focused on the first floor Reading Room and Reference area. We are working with our contacts at DVI to figure best practices using braille to identify features such as the elevator. The next challenge will be how to best represent the open stairway that leads down to the Teen and Children's areas.
Please check back for future updates on this project.
Tags:
3Dprinting
,
Delaware Library Access Services
,
Maker Spaces