Written on: September 3rd, 2015 by: Sarena Fletcher in Blog Posts, Informal learning, Inspiration Space, Tech
The 3D Printer Road Show came to a roaring conclusion the final week of August as we visited four libraries in New Castle County.
Early in June the Division of Libraries offered to visit each Delaware public library for a day to demonstrate a variety of 3D printers, introduce 3D modeling, and discuss the state of 3D printing in public libraries throughout the country. Fifteen libraries welcomed us into their space over the course of July and August.
We started somewhat centrally at Appoquinimink, south to Selbyville, north to New Castle, then Delmar, North Wilmington, Delaware City, Newark, Millsboro, Woodlawn, Harrington, Elsmere, Hockessin, Corbit-Calloway Memorial, Brandywine Hundred, and ended at Garfield Park Library on August 31.
Our primary goal was to introduce Delawareans to 3D printers, to give patrons throughout the state the opportunity to see in person what many have only read about or seen on television. DDL has permanently placed similar desktop 3D printers in a growing number of libraries.*
The 3D Printer Road Show was also intended to inspire Delawareans to think of what they could do even if they don't have an actual 3D printer. An ideal response was from a patron at the Elsmere Library (which by the way has no 3D printer) who had designed her own 2D object on paper, fan art inspired by the popular video game series Final Fantasy. With our guidance, she scanned it on the library's new flatbed scanner and converted it to the appropriate .STL (STereoLithography) file format for printing on the 3D printer we brought for the Road Show.
At the same library, staff are now eagerly learning TinkerCAD, an easy to learn and free 3D modeling software program anyone can access through the Internet. Their goal is to teach basic modeling to patrons, knowing if their desired end goal is to print they can send a print request to one of the other libraries in Delaware that does offer 3D printing services.
Twin 11-year old girls at the Harrington Library (no 3D printer there, either) embellished a 3D printed butterfly using our 3Doodler. They thought of this idea completely on their own. To our surprise, these girls referred to SketchUp and Cura (two 3D modeling software available on every public library computer in Delaware) as "games" in which they designed their own houses – they had no idea this software interacted with 3D printers.
We encountered numerous other examples of ways the 3D Printer Road Show inspired innovative ideas, created opportunities for collaboration, and, I like to think, planted the seeds for future STEM professionals.
Please visit the Delaware Libraries Flickr album for more photographs from the 3D Printer Road Show.
Learn more about 3D printing in the DDL LibGuide Unleash Inner Genius: 3D Printers and Modeling or ask at your local public library.
*There are soon to be 12 public libraries in Delaware that offer 3D printing services. Each is listed in the above-mentioned LibGuide.
Written on: June 9th, 2015 by: Beth-Ann Ryan in Blog Posts
*Guest post by Jessi Taylor, edited by Brad J. Glassco
On Saturday May 16th, the Dover Public Library hosted the "STEM Makerfest" and Barrel of Makers was invited. While there, we manned a booth and taught classes. Our goal was to empower people of all ages to try new things, no previous experience necessary. Greg Cheng taught Intro to Arduino, which is an open source hardware and coding environment which can be used to make almost anything. I taught an Introduction to Scratch class, which teaches the basics of computer programming to all ages.
At our booth, we showed off all the cool things we make and showed everyone that, they too, can make really awesome things. We also showed off, and let everyone play with, our award winning drawbots that were made with a group of high school aged kids as part of the Odyssey of the Mind program. All of us had a great time meeting other makers and STEM specialists from all over Delaware.
Written on: April 30th, 2015 by: Beth-Ann Ryan in Blog Posts, News
Congratulations to the statewide winners of the Teen Video Challenge, the Dover Public Library!  And thank you to all the teen teams who participated from the Frankford, Dover, Milton, Wilmington, and Lewes Public Libraries.  Every video showcased such creative interpretations of this years theme: Unmask.  Watch all team videos here: http://guides.lib.de.us/unmask
The Teen Video Challenge, a national competition for teens to get involved with reading and their public library's summer reading program, is sponsored by the Collaborative Summer Library Program (CSLP). CSLP is a consortium of public libraries and state library agencies throughout the United States, its territories, and the Cayman Islands.
$150 will be awarded to the creators the winning state video and their associated public library will receive prizes from CSLP and Demco/Upstart.
Written on: April 8th, 2015 by: Beth-Ann Ryan in Reading
Here are the top-ten most checked out eBooks from Delaware Libraries!  Find these, and more, at http://delaware.lib.overdrive.com/
1. Shakespeare Saved My Life: Ten Years in Solitary with the Bard
2. Gone Girl: A Novel
3. Top Secret Twenty-One: Stephanie Plum Series, Book 21
4. Fifty Shades of Grey: Fifty Shades Trilogy, Book 1
5. The Girl on the Train: A Novel
6. The Fault in Our Stars
7. Fifty Shades Darker: Fifty Shades Trilogy, Book 2
8. All the Light We Cannot See: A Novel
9. Fifty Shades Freed: Fifty Shades Trilogy, Book 3
10. The Husband's Secret
Written on: March 16th, 2015 by: Beth-Ann Ryan in Blog Posts
Congratulations to Kathy Dulis, Librarian at Seaford Middle School, on being selected as a 2015 iEducate finalist by the Rodel Foundation of Delaware. Vote for Kathy at http://www.ieducatedelaware.org/nominees/kathy-duli/

Written on: February 19th, 2015 by: Beth-Ann Ryan in Blog Posts, Learning, News
The Delaware School Libraries Council, with support from the Delaware Department of State and the Department of Education, is embarking on a Statewide Master Plan for Delaware School Libraries, a comprehensive planning effort designed to create a vision that will inform solutions for the development of state-of-the-art school libraries.
The year-long planning effort, which will appraise the current status of school library services and will address future trends and needs, will be conducted by the Institute for Public Administration (IPA) at the University of Delaware and Himmel & Wilson, Library Consultants. IPA has an extensive project management and strategic planning background in the public sector. Himmel & Wilson specializes in evaluation and planning services for libraries.
"Delaware has made a great investment in upgrading the services offered to residents in our 35 public libraries across the state," said Secretary of State, Jeff Bullock. "Creating a Master Plan for Delaware's school libraries ensures students will have the resources they need to be successful within their schools."
"This is an opportunity for our school librarians, teachers, administrators, students and families to share their needs and help us coordinate services and resources across our state and between our public school and library systems," Secretary of Education Mark Murphy said.
This school library planning process builds upon the strategic Statewide Master Plan for Delaware Public Libraries which resulted in significant improvements in public library buildings and sharing of library collections statewide through the Delaware Library Catalog. "A statewide strategic approach to all library services will support Delawareans in achieving potential in their education, careers, and throughout life," according to Dr. Annie Norman, State Librarian and Chair of the Delaware School Libraries Council.
The consultants will review background documents and national research, and will obtain input from school librarians, educators, district administrators, students, parents, legislators, and the public through surveys, site visits, interviews, and focus groups. A focus of the researchers is determining the most effective methods to integrate electronic resources, instructional technologies, and information literacy/fluency at the individual school-building level. The project will identify ways to utilize print resources to engage elementary-age children with reading, and methods to equip older students to navigate and apply information resources in the post-secondary realm.
The final plan submitted to the Delaware School Libraries Council will provide recommendations for an integrated framework for school libraries, including library services, collections, funding, staffing, operating costs, maintenance, performance indicators and measures, policies, and state and local governance. The summary of efforts to improve school libraries to date and the recommendations for the Statewide Master Plan for Delaware School Libraries can be found in the 2013 Annual Report of the Delaware School Libraries Council.
Written on: February 16th, 2015 by: Beth-Ann Ryan in Blog Posts, News
We're a proud partner of In Her Shoes – a nonprofit dedicated to helping former female inmates find jobs and reducing recidivism.  The News Journal recently highlighted the great work of In Her Shoes, "DSBC grant helps improve lives of female ex-cons."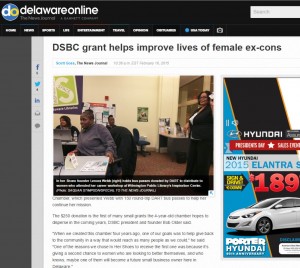 Written on: February 9th, 2015 by: Beth-Ann Ryan in Blog Posts, Tech
The News Journal recently highlighted coding classes offered in libraries throughout the state,"Code class sets early computing path for Delaware youth."
"At the center of each session is Scratch, a sort of gateway activity into coding, developed by the Massachusetts Institute of Technology. Its approach offers users a simple, block and symbol-based "language" that encourages users to consider logic, order, timing and keyed in specifics to make things happen – from a dancing cat to a full-on game."
For more information on coding classes check with your local library or the Delaware Libraries events calendar.
Written on: January 22nd, 2015 by: admin in Blog Posts, News
We Geek the Delaware Dream is a statewide initiative to help citizens realize their dreams for the future and position public libraries as change agents. Visual maps are specific to the community conversations that took place at 6 public libraries.
Recently on the IMLS facebook, Delaware Libraries, Laurel's Visual Map was featured and also tweeted. Check it out!
Delaware Libraries wants to help citizens realize their dreams & position public libraries as change agents
Laurel's Visual Map
See more visual maps at lib.de.us
Written on: December 11th, 2014 by: Sarena Fletcher in Blog Posts, Learning, News, Tech
Library staff from across the state of Delaware are invited to apply to participate in ILEAD USA Delaware 2015. The Division of Libraries has been promoting this continuing education library immersion program over the past several months, encouraging library staffers whose positions may range from part-time pages to full-time librarians to identify a community need that can be addressed through an innovative use of technology. That is the core of ILEAD – a program that teaches library staff to work with each other using participatory and emerging technologies to solve a community need.
ILEAD, a clever acronym for Innovative Librarians Explore, Apply, and Discover, was initiated by the Illinois State Library (ISL) and will be funded in 2015 by an Institute of Museum and Library Services (IMLS) Laura Bush grant through the ISL and by the Delaware Division of Libraries.
Last year my colleague and I traveled three times to Springfield, Illinois, to participate in the fourth cohort of ILEAD as Apprentices. Along with ten* other states, we observed 25 Illinois library staffers as they progressed on their team projects, during the time span of March 2014 through October 2014. We watched the teams develop their leadership and team building skills as they learned new technologies to fulfill their project goals and better serve their communities.
By the end of the final session in October, these exceptional staffers were roaring to return to their libraries, armed with their ILEAD experience, claiming "[ILEAD] will challenge you. It will reaffirm your belief in what you're doing. It'll make you happy … Just join." A.Y. from the I GED U team, 2014
Past projects include:
Engaging Ones – developed a geo-location capable software application to connect teens with librarians and library programs near their current location. Resulted in IMLS Sparks! Ignition grant.
Grow Digital – a centralized site for people struggling with digital literacy where they can acquire the digital skills needed to function well in today's society.
Robot Test Kitchen – reviews of robotic tools for use in a public library setting.
Sharing Useful Professional Electronic Resources – a collection of digital resources organized by school librarians to reflect the Common Core standards for language arts.
The Division of Libraries is bringing this extraordinary program to Delaware in 2015. We are in search of innovative library staff, mentors and instructors.
You can find additional information on ILEAD USA Delaware 2015 at guides.lib.de.us/ILEADDelaware2015
*Colorado, Illinois, Maine, New York, North Dakota, Ohio, Pennsylvania, South Carolina, Utah, Wisconsin (Other states participated as Apprentices and will not be replicating the program in 2015)